Skin Remodelling With EndyMed 3Deep - Intensive
The perfect solution for treating acne scars, stretch marks, deep wrinkles and improving skin texture.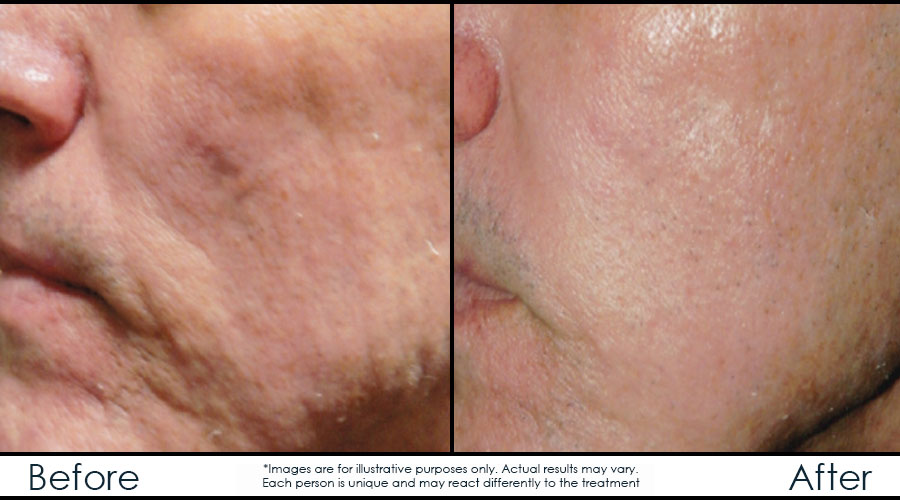 Skin Remodelling With EndyMed 3Deep - Intensive
It's a modern technology that can treat your skin (up to 5 mm deep)
Comfortable, fast recovery time, suitable for all types of skin and safer than fractional lasers
Ideal for scars, enlarged pores, stretch marks and deep wrinkles
Little downtime
What Technology Is Used for Microneedling Fractional Radio Frequency?
EndyMed's Intensive technology works by delivering short pulses of radio frequency energy through an array of 25 sterilized, gold plated micro-needles (300 microns wide). Radio frequency energy heats the papillary and reticular dermis, stimulating a natural skin improvement process that tightens the skin.
Multiple adjustable parameters such as depth of needle penetration, energy level and pulse duration provide complete control over the course of the treatment. This provides customized results, regardless of skin type, density or colour. The intensive treatment handpiece provides effective dermal skin remodeling deep within the skin to revive and rejuvenate the natural production of new collagen and elastin.
The intensive treatment triggers the skin's natural healing process, rejuvenating and refreshing the skin while reducing the appearance of wrinkles, acne and traumatic scars in all skin types. With EndyMed Intensive, treatment benefits are long-lasting. Your skin will continue to improve for up to 18 months after your last treatment session. It is safer than fractional lasers.
Microneedling Fractional Radio Frequency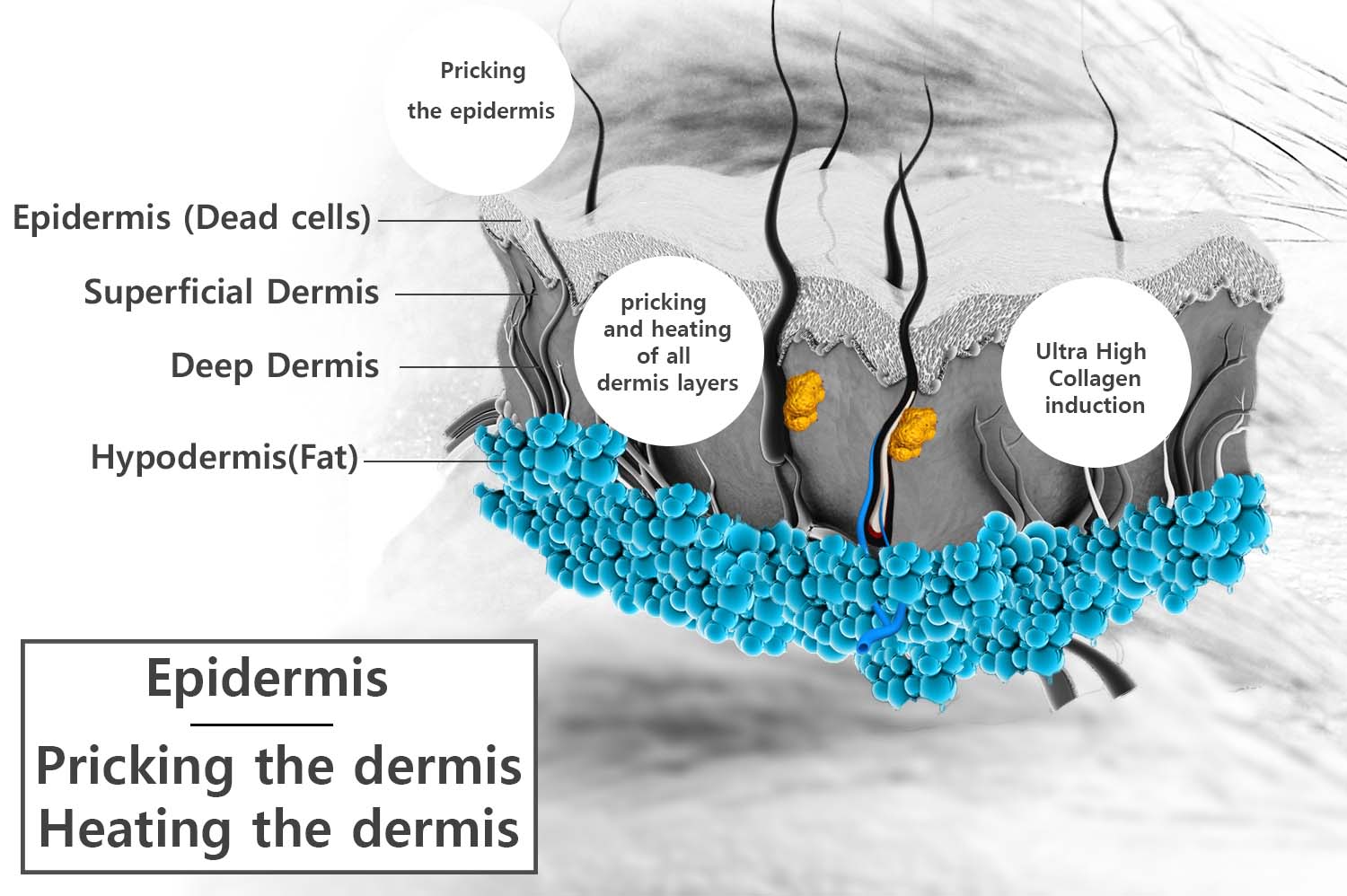 Microneedling Fractional Radio Frequency - Treatable Areas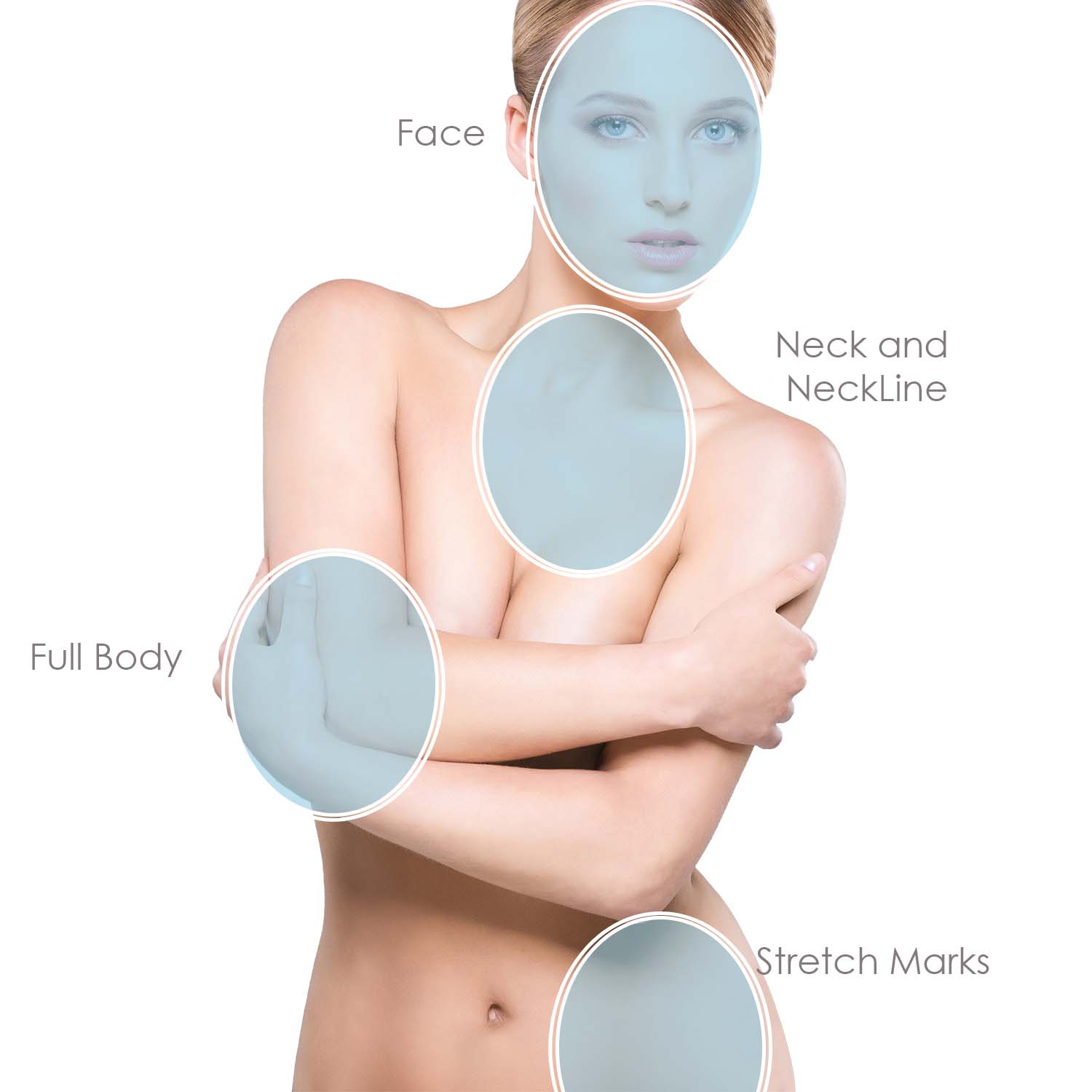 Microneedling skin resurfacing helps fight the signs of advanced skin aging. Examples of conditions that may be improved include:
• Very dilated pores
• Deep wrinkles
• Wrinkled skin
• Pigment spots
• Improves most scars
• Best system for treating deep stretch marks
• Softening fine lines and wrinkles
• Improves dark circles and sagging of the skin on the face, eyes or body.
The radio frequency fractionation technology by micro-switching allows to obtain the best possible result with very little social foreclosure. As can be seen in the diagram, the needles penetrate deeply into the skin and create a very deep point of coagulation, up to 100 degrees of heat is created around the needle. To stimulate collagen, the heat is much more important than the ablation itself. Since we keep the healthy tissues around the coagulated areas, healing is very fast. Often the next day, the skin has a rosy appearance. The results are impressive. The need to use an ablative laser is less and less necessary, moreover it must be said that the ablative lasers go back to the 1990s.
A Microneedling Fractional Radio Frequency Session In Details?
Personalized Evaluation
At Infinium, we take the time to get to know you. Each person is unique and deserves a personalized assessment. Everyone has different expectations and needs so it is essential we advise you on the best possible treatment and cost estimate.
Taking of Photographs
It is important to take pictures before and after your treatment. Taking pictures allows us to correctly visualize the areas to be treated. In addition, it is the most effective way for you to see the evolution of your results. At Infinium, your satisfaction is paramount.
We also offer 3D imaging.
The Microneedling Fractional Radio Frequency Treatment 
An ultra concentrated anesthetic lotion will be applied to make the treatment as pleasant as possible. Outlines will then be drawn on the area to be treated so that the treatment is uniform. The microneedle can penetrate the skin up to 3.5 mm. Once positioned energy will be delivered throughout the needle.
After Treatment
A soothing cream and sunscreen, that can be tinted, will be applied. Your next appointment for treatment will be scheduled. A follow-up will be done to determine if everything is going well.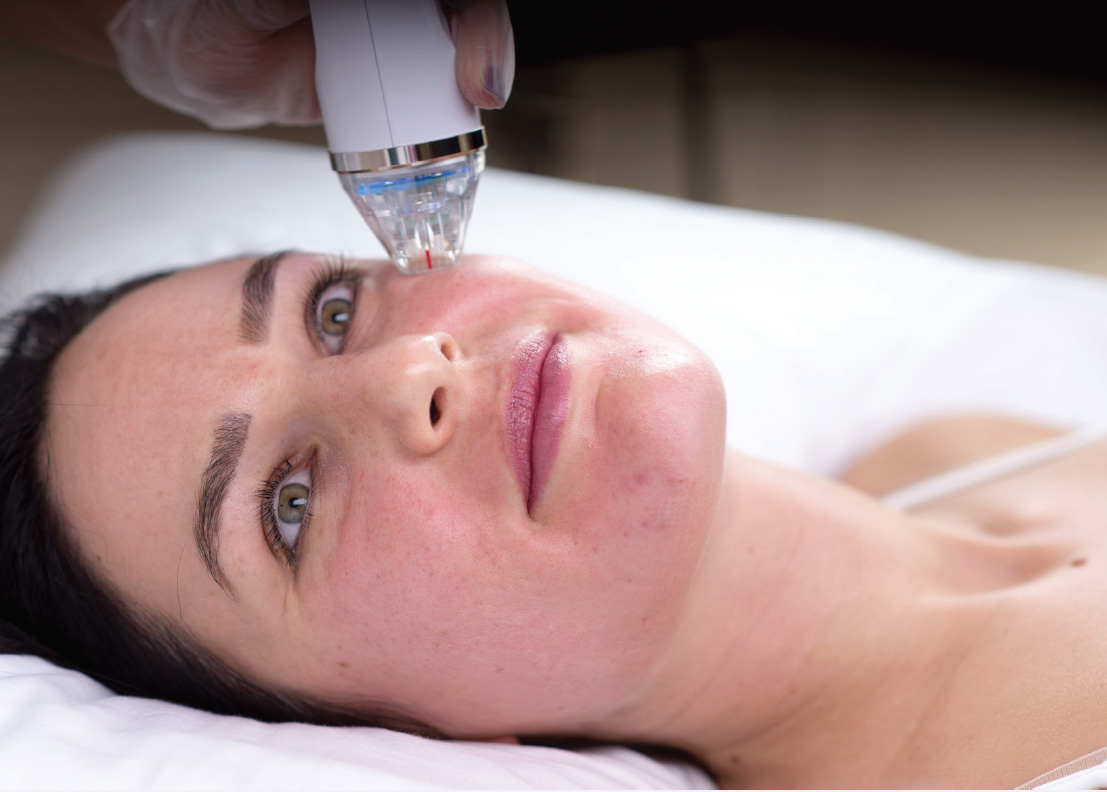 Why Choose Infinium Clinic?
Our Consultations
Here at Infinium, each consultation consists of a complete skin analysis done with in-depth detail. With the help of our 3 step program, a unique treatment plan is designed especially for you! We are proud to offer you the best technologies and treatments available in today's market.
We aim to provide you with the best treatment options that respect your budget. We promise to offer the best options made specifically for you.
Our Technologies
Our team of professionals is aware that it is impossible to treat all skin conditions with just one technology. This is why we have acquired over 40 technologies to ensure that you experience the best services and results.
Safety
All of our machines are approved and regulated by Health Canada and supported by studies. Our team uses the safest techniques during the injections of neuromodulators and fillers.
Our Modern Clinic
Within the beauty industry, the best results depend not only on the experts but also on the machines that are used. Today, technologies and techniques evolve extremely fast. To improve our services and results, we use the most advanced and modern machines in today's market.
We respect your privacy. Through the use of our software system we make sure that your personal information is kept safe. After every treatment, we are always here to answer any questions that you may have, both inside and outside of office hours.
Our Team of Experts
We believe that you deserve to be taken care of. You will be both greeted and treated exclusively by our professional team of doctors and nurses that are specialized in medical aesthetics.
Our Therapeutic Protocols
Here at Infinium, we believe that getting good results shouldn't be dependent on just one treatment. Based on the problems identified during your facial analysis, we will offer you a combination of multiple treatments that best suit your needs to provide you with the best possible results. It is possible to combine technologies with injections, pharmaceutical skincare and oral medication.
Our Services
We at Infinium are proud to offer you the experience of a lifetime. We pride ourselves in providing some of the best services in the region.
Your Satisfaction
Here at infinium, your satisfaction is our top priority. We ensure you that we will take our time to listen to your questions and follow up with you. We strive to provide excellent service every step of the way.