TriPollar® Radio Frequency Skin Tightening
Achieve a natural lift without surgery— the only treatment capable of stimulating collagen cells in 3D.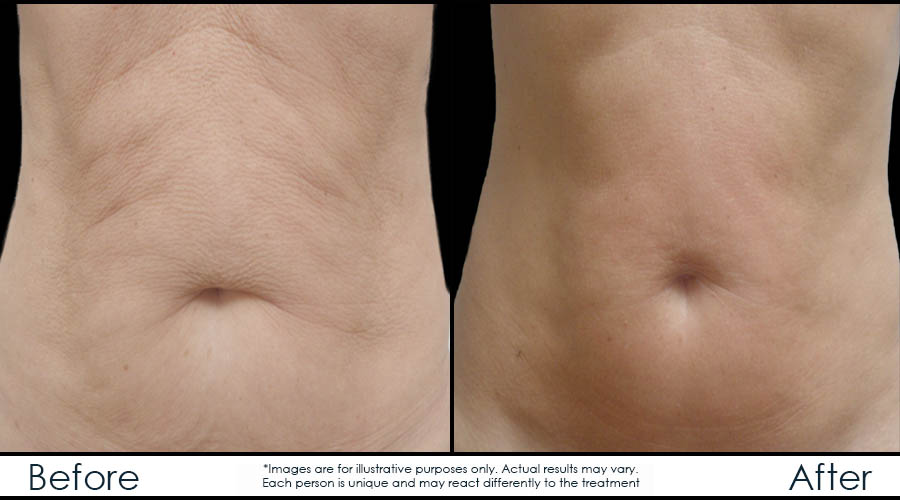 Skin Tightening With TriPollar Radio Frequency
Used in aesthetics to stimulate the production of collagen
Commonly used treatment for skin tightening
Treats the deep layers of your skin in 3 dimensions thanks to its unique technology
Without any convalescence and without surgery
What is TriPollar Radio Frequency ?
Every clinic claims to have the best treatment. Claims can be compared accurately by understanding the science behind radio frequency treatments. Radio frequency treatments work by electronic wave transmission. The skin acts as a barrier (insulation) between transmission poles and energy is transmitted to the skin in the form of heat. The resulting diffused heat is around 42 degrees Celsius at the surface and 55 degrees Celsius in the deeper skin layers. Heat helps to stimulate collagen-producing cells thus increasing collagen production in the skin. In the past, mono-polar, bipolar or multipolar systems were used. Today, tripolar radio frequency systems are safer, more comfortable and able to penetrate deeper into the skin than any preceding treatment.
After our twenties, we lose 1 to 2% of collagen a year and they will never come back by themselves. What if it was possible to slow this down? Would you do it or wait 10, 20 or 30 years ? People who use TriPollar radio frequency can keep their faces looking young for decades.
TriPollar Radio Frequency Penetrates Deeper Into The Skin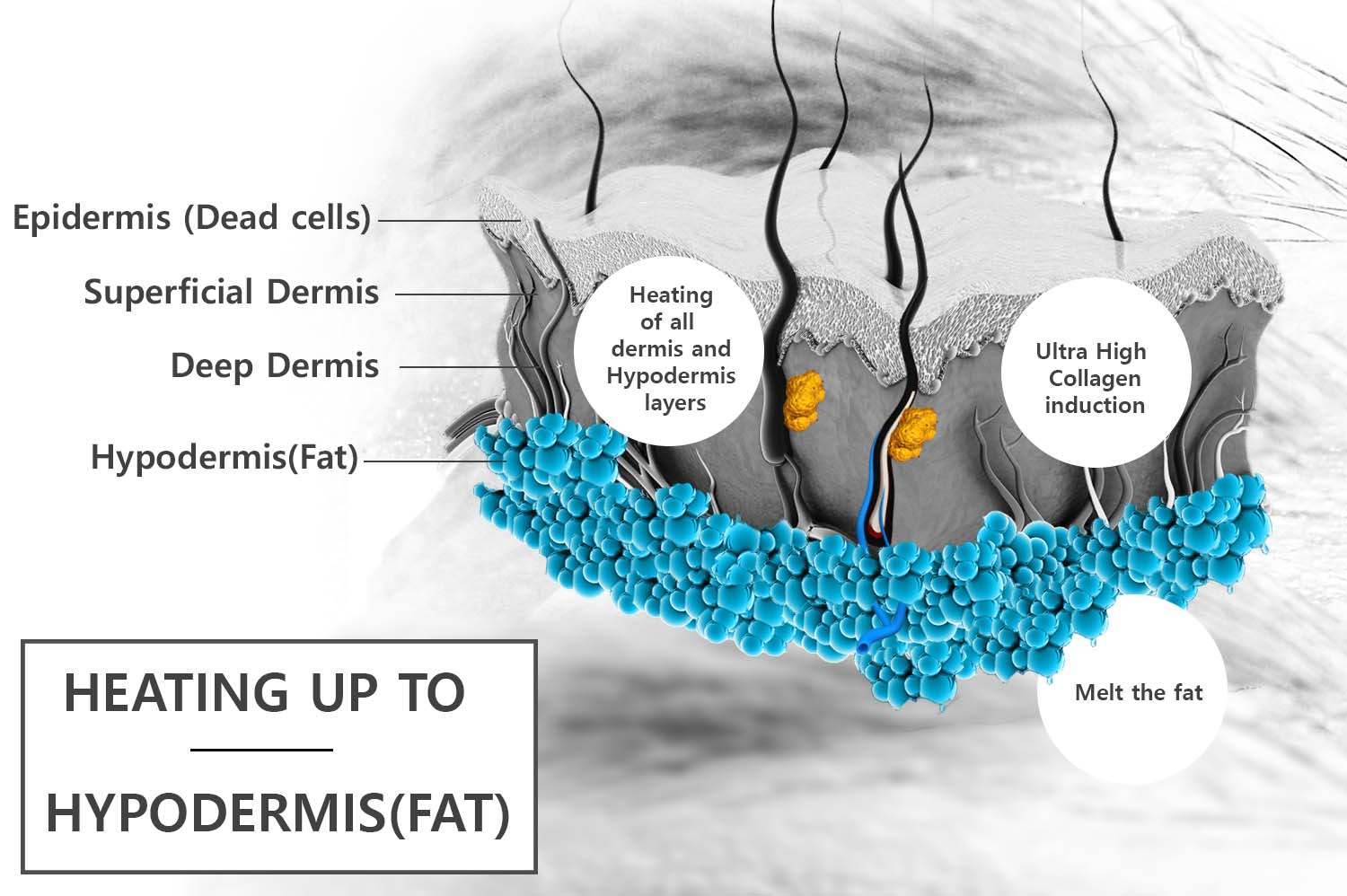 TriPollar Radio Frequency - Treatable Areas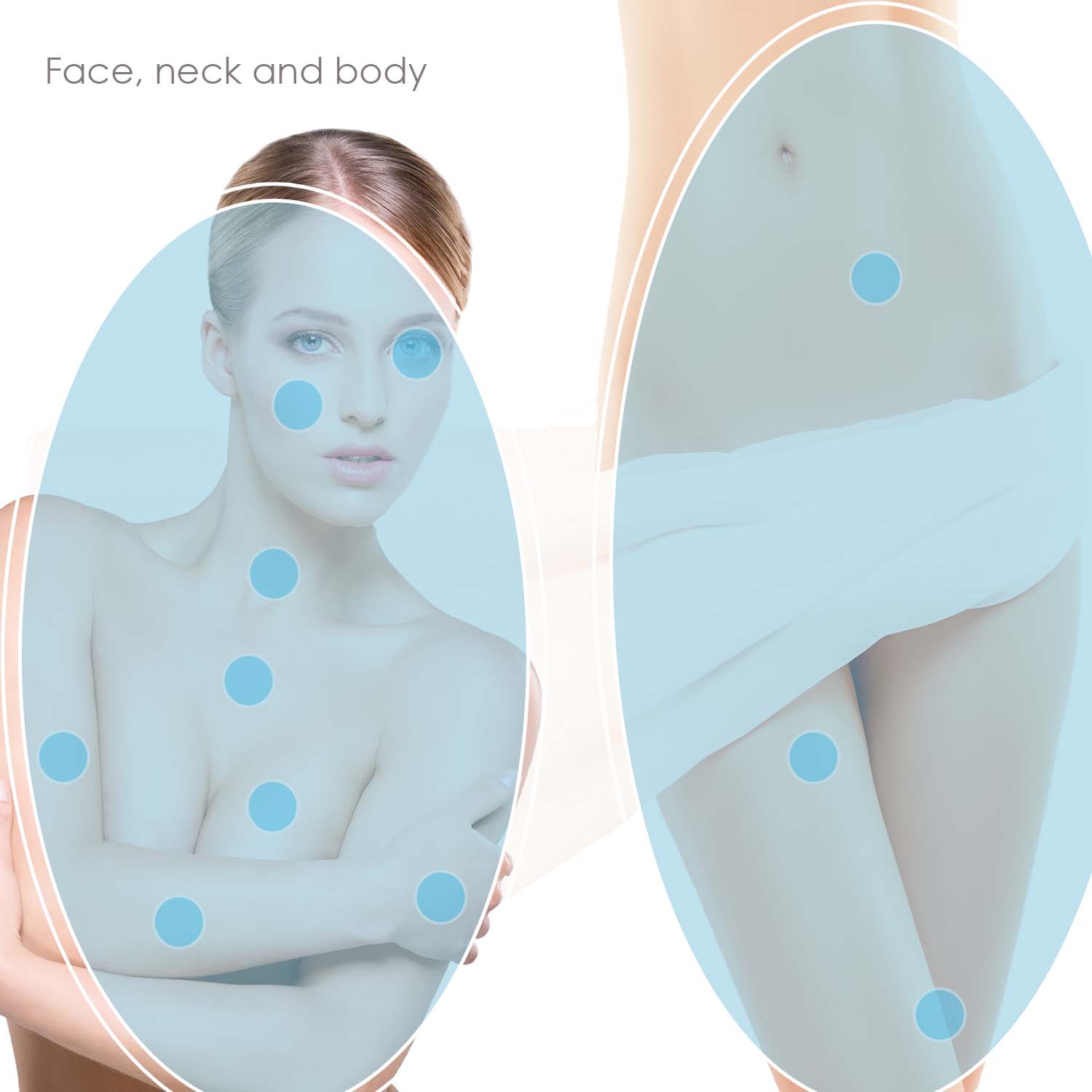 Use of TriPollar Radio Frequency and Its Effects
Once the skin begins to age, this process becomes almost irreversible; we lose bone density, muscles, fat, collagen and our skin becomes thinner. The effect of gravity pulls everything down. It is for this reason that the cheeks begin to droop and reverse the shape of the lips. Also, the oval of the face changes; we can see that the skin begins to relax at the chin. This aging of the skin will continue until it is no longer possible to treat aging without surgery. Even so, the results will not be optimal because although surgery cuts off excess skin it does not restore lost volume. It will be necessary to use products to restore volume in order to improve results. Delaying treatment is never ideal because the process becomes more difficult to reverse. The secret is prevention. Three pole radio frequency can treat the entire skin to stimulate the new growth of collagen throughout the dermis which will have the effect of densifying and stretching the skin. For example, if we are 40 years old or 50 years old, we will probably have lost between 15 to 30% of collagen. Following the three pole radio frequency treatment, the amount of collagen produced will increase by a few percent. It is similar to going back in time.
TriPollar Radio Frequency (RF) can treat all layers of the dermis without hurting the skin. Under the effect of its intense heat, the neo-synthesis of collagen will start again. Compared to old radio frequency that only treats the dermal surface. The effects are only short term. The stimulation of collagen is much lower.
Also, we use it to treat the whole body including the eyes to improve the relaxation of drooping eyelids and wrinkled rings. It is the best technology to treat cellulite due to skin looseness. In addition to firming the skin, it is also able to reduce fat in the treated areas. To see the effect that it could have on you take your hand and gently stretch the skin at the thighs. You will see that the appearance of cellulite improves. For very deep dimples, we can break them with endermology before starting a firming treatment with three-way radio frequency.
The results are durable and the skin is smoother, firmer and more toned.
This is the only technology that is capable without surgery to:
Reshape the body
Lift the face
Firming skin
Reduce cellulite
Reduce fat locally
Reduce the circumference
A Tripollar Radio Frequency Session in Details
Custom Evaluation
At Infinium, we take the time to get to know you. Each person is unique and deserves a personalized assessment. Everyone has different expectations and needs so it is essential we advise you on the best possible treatment and cost estimate.
Taking of Photographs
It is important to take pictures before and after your treatment. Taking pictures allows us to correctly visualize the areas to be treated. In addition, it is the most effective way for you to see the evolution of your results. At Infinium, your satisfaction is paramount.
We also offer 3D imaging.
Identification of the Area to Be Treated
One of our nurses will delineate with a white pencil the areas to be treated in order to ensure that a constant temperature is maintained in these regions. The goal is to induce the stimulation of the natural collagen process that starts from 41 degrees Celsius in the skin's surface. In the skin the temperature will be much higher— around 55 to 60 degrees.
Application of the Ultrasound Gel and Beginning of TriPollar Radio Frequency (RF) Treatment
Subsequently, they will apply gel on the areas to be heated. They will program the three pole high-tech device and start warming the treatment zone until it reaches a minimum of 42 degrees Celsius. Once reached, they will continue to move the device to keep the heat constant in the treatment area. TriPollar Radio Frequency heats the skin so deeply that it often dissolves fat, creating a body contouring effect on the face and body. The treatment remains comfortable throughout the process.
After A TriPollar Radio Frequency Treatment
There will be redness around the skin, but this will decrease in the hours following treatment. No need to take any days off; several people come during their lunch break to undergo treatment. This treatment does not require any recovery time. The skin will be firm and tense, but this effect will not last long.
The Weeks And Months Following TriPollar Radio Frequency Treatments
After each treatment is done, you will begin to notice a difference in the firmness and contour of your skin. The results will continue to improve until 6 months after the end of the treatments. This is because our system stimulates the growth of collagen in your skin. Once stimulated, it will start producing it every day. It is advisable to do 1 maintenance treatment every 3 months to maintain results and slow the aging of the skin.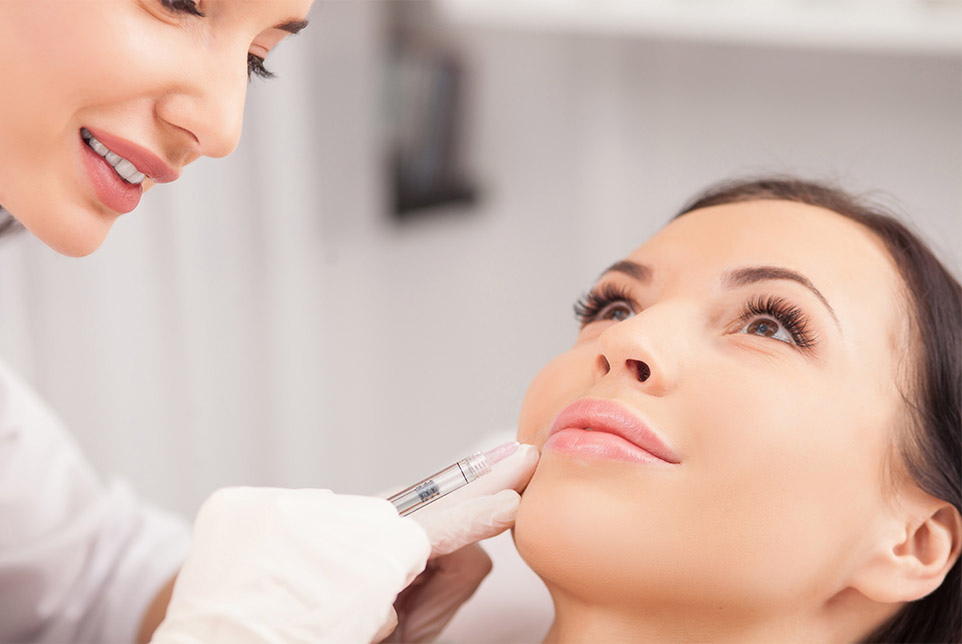 Why Choose Infinium Clinic?
Our Consultation
Here at infinium, every consultation is done with a complete skin analysis and in-depth detail. With the help of a 3 step program, we will create a unique treatment plan for you. We are proud to offer you the best technologies and treatments available in today's market.
To provide you with the best treatment options that respect your budget. We promise to offer you the absolute best options for you.
Our Technologies
Our team of professionals are aware that it is impossible to treat all skin conditions with just one technology. This is why we have acquired over 40 technologies, to make sure you experience better services and results.
Safety
All of our machines are safe, approved and regulated by Health Canada and supported by studies. Our team uses the safest techniques during the injections of neuromodulators and fillers.
Our Modern Clinic
In the beauty industry, the best results depend on the machines that are used and also on the experts. Today, technologies and techniques evolve extremely fast. To improve our services and results, we use the most advanced and modern machines on today's market.
As well as our software system, confidentiality is a top priority of ours to make sure your personal information is kept safe. After every treatment, we are always here to answer your questions, inside and outside office hours.
Our Team Of Experts
We believe you deserve to be taken care of. You will be greeted and treated exclusively by our professional team of doctors and nurses that are specialized in medical aesthetics.
Our Therapeutic Protocols
Here at infinium, we believe that getting good results shouldn't depend on just on treatment. Depending on the problems identified during your facial analysis, we will offer you a combination of multiple treatments. It is possible to combine technologies with injections, pharmaceutical skin care and oral medication. All while aiming for the best results possible.
Our Services
We at infinium are proud to offer you the experience of a lifetime. Guaranteed with the best services in the region.
Your satisfaction
Here at infinium, your satisfaction is our top priority. We ensure you that we will take our time to listen to your questions and follow up with you, every step of the way.