Non-Surgical Eye Blepharoplasty With Fractional Technology
Effectively treat sagging eyelids and under-eye wrinkles.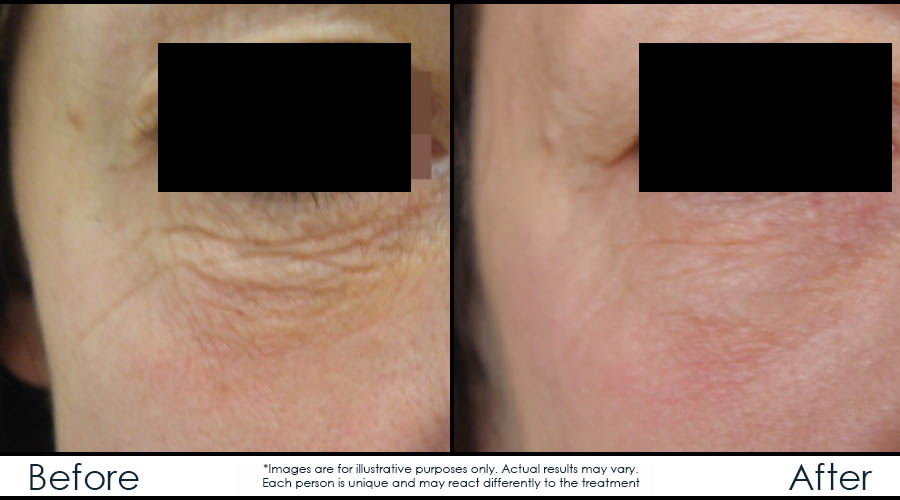 Non-Surgical Eye Blepharoplasty With Fractional Technology
Improves dark circles and rejuvenates your eyes
An ideal treatment for someone who is beginning to have sagging eyelids and under-eye wrinkles
Renews the surface of your skin and stimulates collagen around your eyes
For all skin types
What Is Non-Surgical Eye Blepharoplasty With Fractional Technology?
Unlike surgery or cutting excess skin, a blepharoplasty without surgery stimulates collagen around the eye to densify and tighten the area. To do this, we use a combination of two technologies that can treat sagging eyes, fine lines, puffiness and dark circles around the eyes. It is an ideal treatment for people who have early aging around the eyes, want to prevent the effects of aging or who do not wish to have surgery. The first technology used is a three-pole radio frequency that can firm the area around the eyes. This is done by safely warming the skin around your eyes to 41 degrees Celsius. This activates the production of collagen. Subsequently, we use fractional radio frequency that allows more than 1000 fractions of skin to be safely removed around the eye. The effect of the fractionation and heat transmitted in the skin at 100 degrees Celsius causes the micro ablation of the skin. The body must reproduce new collagen and renew the surface of the skin which allows to improve the wrinkles and color around the eye. The advantage of this treatment is that it gives impressive results, far better than any other laser technology or other aggressive treatment. Also, there is no recovery time and the treatments are all very safe.
Non-Surgical Eye Blepharoplasty With Fractional Technology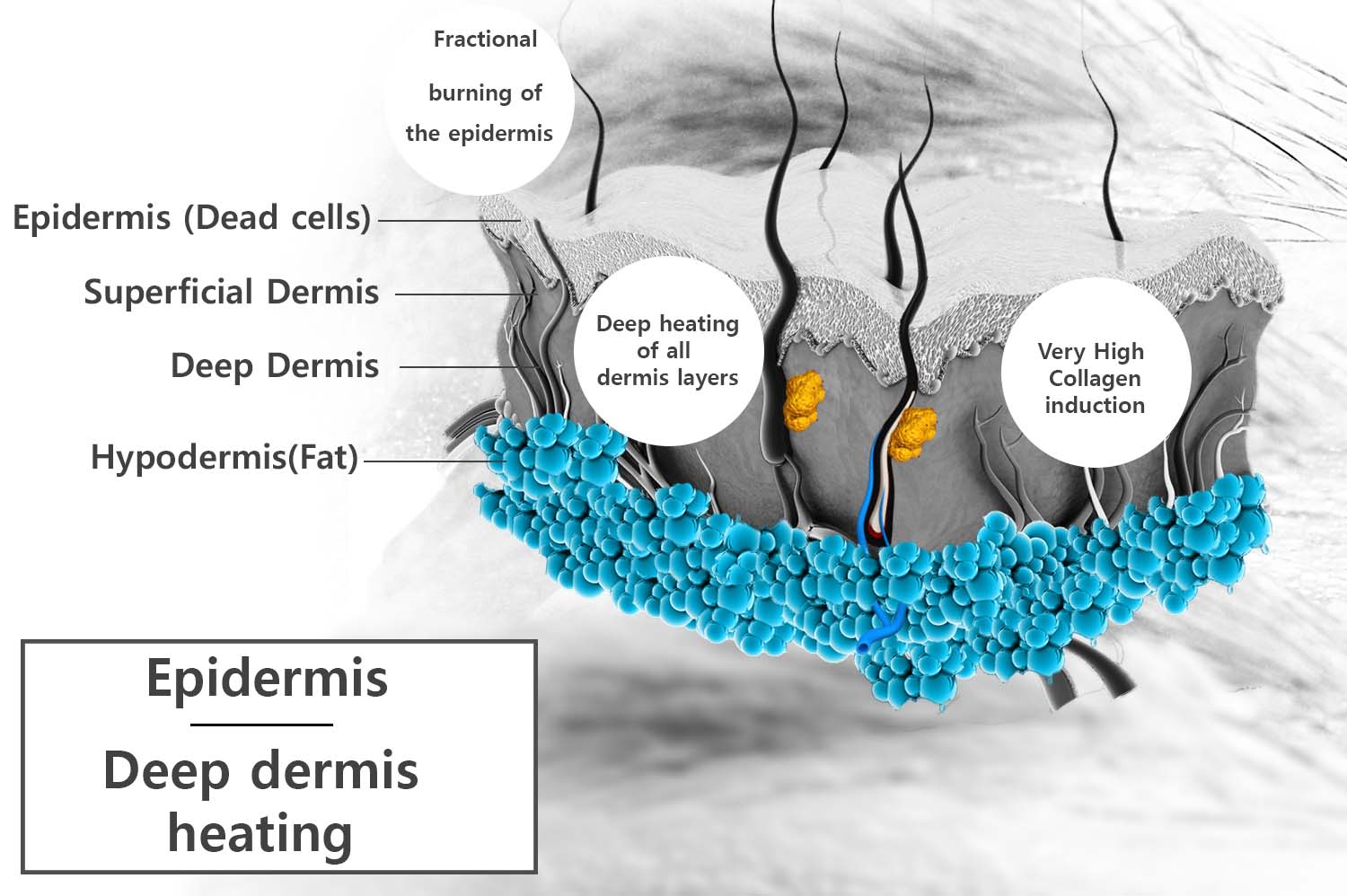 Areas of Use for Radio Frequency Technologies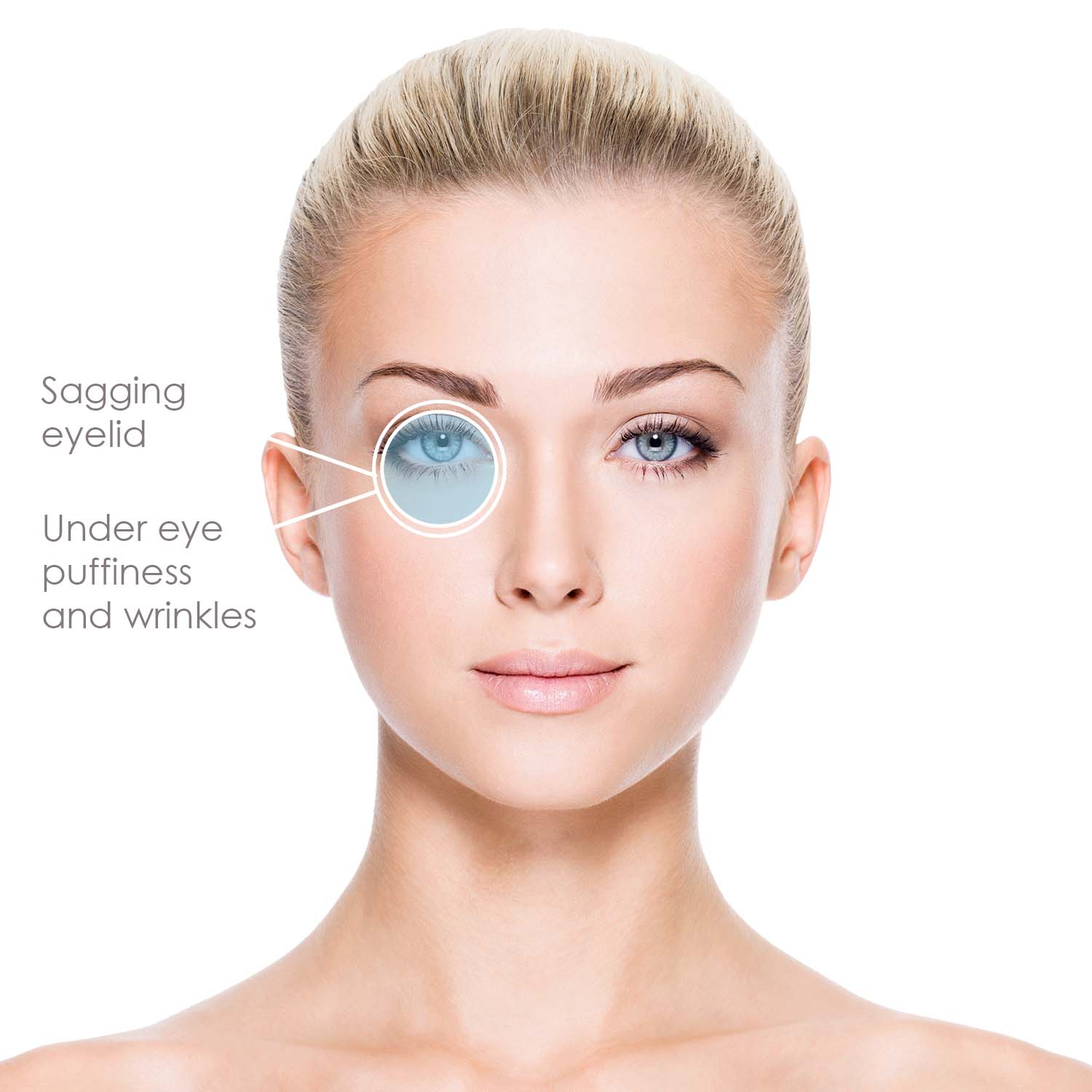 Understanding the Combination of the Two Technologies
The first technology is the use of fractional radiofrequency. It is much safer and gives better results than older ablative lasers such as a CO2 or erbium laser. When we talk about fractional radiofrequency, it is a skin resurfacing and splitting treatment. This refers to the removal of small areas of the skin. The idea behind skin resurfacing is to push your body to repair itself. The body will begin to weave collagen to fill the micro-perforations made by fractional radiofrequency. You should remember that the body stops producing collagen after the age of 25. The only way to stimulate it is to force it to do it again. For this, we have removed plots of your skin in small dots (up to 1.5 mm deep), in addition to preheating the skin to 100 degrees Celsius to a depth of up to 3 mm.
Faster healing: Small sections of untreated healthy skin that remain intact facilitate rapid healing of the treated areas, resulting in high patient satisfaction and decreased convalescence time.
For radiofrequency: It is a system that works by wave transmission, the skin playing the barrier (insulation) between the poles. This energy transmitted in the skin is transformed into deep heat. The warmer this heat is, around 42 degrees Celsius in the surface and 55 degrees in the deep layers, the greater the stimulation of the cells responsible for the production of collagen in the skin. Before there were monopolar, bipolar, multipolar systems. Unlike the other 3,  three-pole radiofrequency penetrates deeper into the skin and is safer and more comfortable.
EndyMed's unique 3DEEP® technology marks a new era in anti-wrinkle and wrinkle technology. It has been clinically proven by several studies on the effectiveness of treatments. All of our guests at the clinic are completely satisfied with this treatment. Excellent improvement with very little recovery time.
A Non-Surgical Eye Blepharoplasty Session in Details
Personalized Evaluation
At Infinium, we take the time to get to know you. Each person is unique and deserves a personalized assessment. Everyone has different expectations and needs so it is essential we advise you on the best possible treatment and cost estimate.
Photographs
It is important to take pictures before and after your treatment. Taking pictures allows us to correctly visualize the areas to be treated. In addition, it is the most effective way for you to see the evolution of your results. At Infinium, your satisfaction is our priority. We also offer 3D imaging.
3poles Radio Frequency Treatment
One of our nurses will apply an ultrasound gel around your eyes and start warming the skin by making small circular passes.
Skin Treatment by Radio Frequency
An ultra-concentrated anesthetic lotion will be applied to make the treatment as pleasant as possible.
Afterwards, lines will be drawn as guidelines on the area to be treated so that the treatment is uniform. Finally, we will gradually adjust the parameters if needed in order to offer you the best treatment possible. Subsequently, we will follow the lines and come to deliver energy to the area to be treated. This step is still comfortable and it is short.
After Treatment
We will put a soothing gel and a sunscreen that can be tinted. A follow-up will be done with you to determine if everything is going well. The treated areas will be red after treatment. However, it is not necessary to take days off. It is possible to apply a concealer lotion the next day.
The Days Following the Treatment
There may be brownish ablation points that persist for up to 7 days. It is possible to exfoliate them after 5 days. In the meantime, this can be covered up with makeup if desired.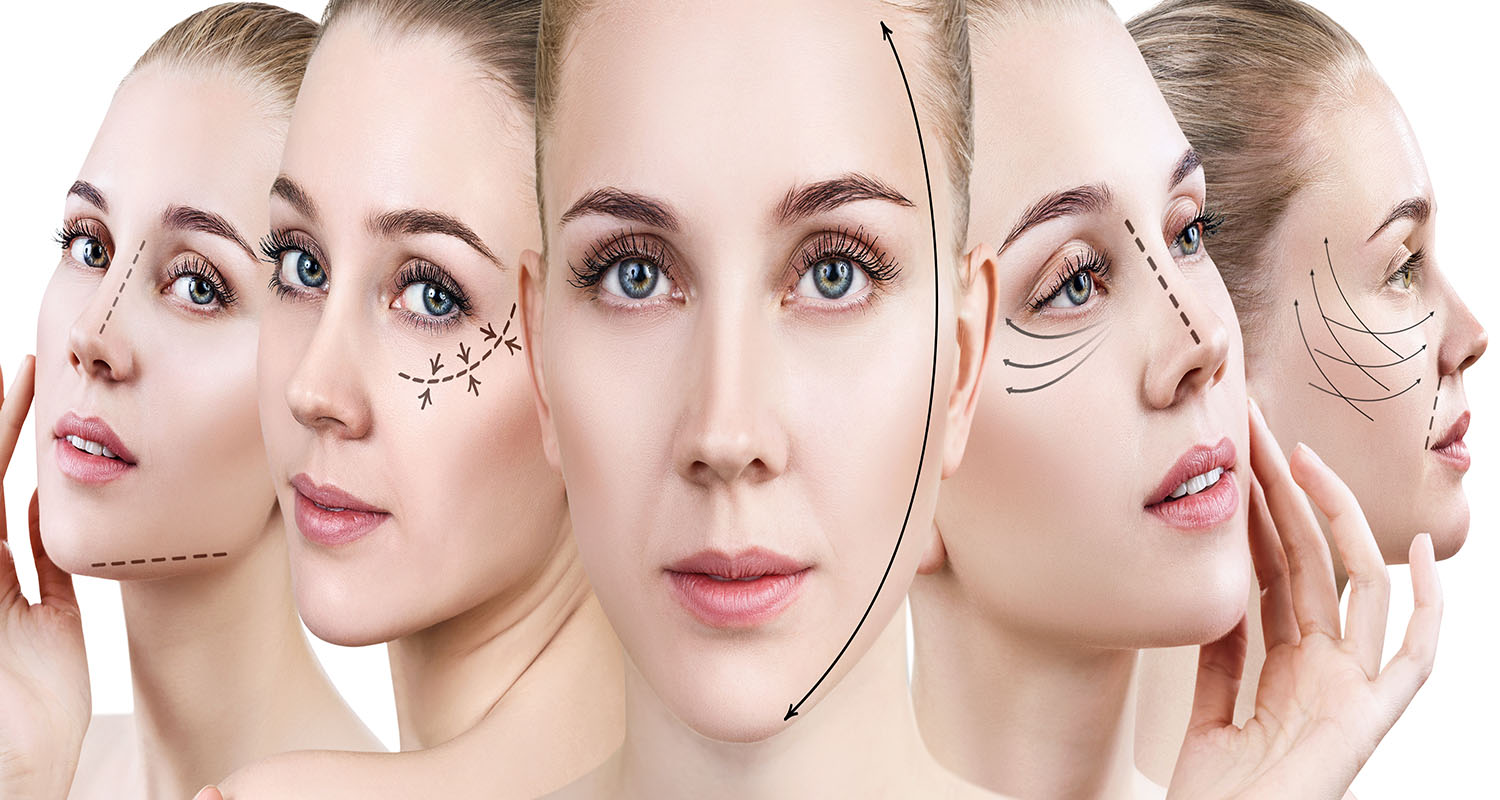 Why Choose Infinium Clinic?
Our Consultation
Here at Infinium, each consultation consists of a complete skin analysis done with in-depth detail. With the help of our 3 step program, a unique treatment plan is designed especially for you! We are proud to offer you the best technologies and treatments available in today's market.
We aim to provide you with the best treatment options that respect your budget. We promise to offer the best options made specifically for you.
Our Technologies
Our team of professionals is aware that it is impossible to treat all skin conditions with just one technology. This is why we have acquired over 40 technologies to ensure that you experience the best services and results.
Safety
All of our machines are approved and regulated by Health Canada and supported by studies. Our team uses the safest techniques during the injections of neuromodulators and fillers.
Our Modern Clinic
Within the beauty industry, the best results depend not only on the experts but also on the machines that are used. Today, technologies and techniques evolve extremely fast. To improve our services and results, we use the most advanced and modern machines in today's market.
We respect your privacy. Through the use of our software system we make sure that your personal information is kept safe. After every treatment, we are always here to answer any questions that you may have, both inside and outside of office hours..
Our Team of Experts
We believe that you deserve to be taken care of. You will be both greeted and treated exclusively by our professional team of doctors and nurses that are specialized in medical aesthetics.
Our Therapeutic Protocols
Here at Infinium, we believe that getting good results shouldn't be dependent on just one treatment. Based on the problems identified during your facial analysis, we will offer you a combination of multiple treatments that best suit your needs to provide you with the best possible results. It is possible to combine technologies with injections, pharmaceutical skincare and oral medication.
Our Services
We at Infinium are proud to offer you the experience of a lifetime. We pride ourselves in providing some of the best services in the region.
Your Satisfaction
Here at infinium, your satisfaction is our top priority. We ensure you that we will take our time to listen to your questions and follow up with you. We strive to provide excellent service every step of the way.