Excision of Benign Lesions with Cryotherapy
Eliminate moles, spots, warts, skin growths, keratoses and other benign lesions using cryotherapy.
Eliminates several types of skin lesions
Quick and effective treatment
Possibility to treat multiple lesions in one session
Cryotherapy is a treatment that can be as cold as -196 degrees Celsius. We use nitrogen, which makes up 78% of our air. It is colorless, odorless and nontoxic. Cryotherapy was first used in dermatology in the 1970s. Due to its proven effectiveness, it is still being used today. The treatment is simple; the affected area is quickly frozen or thermally shocked and then slowly reheated. The water in the cells crystallizes when it is frozen destroying the membranes and cell structure.
Cryotherapy – Treatable Areas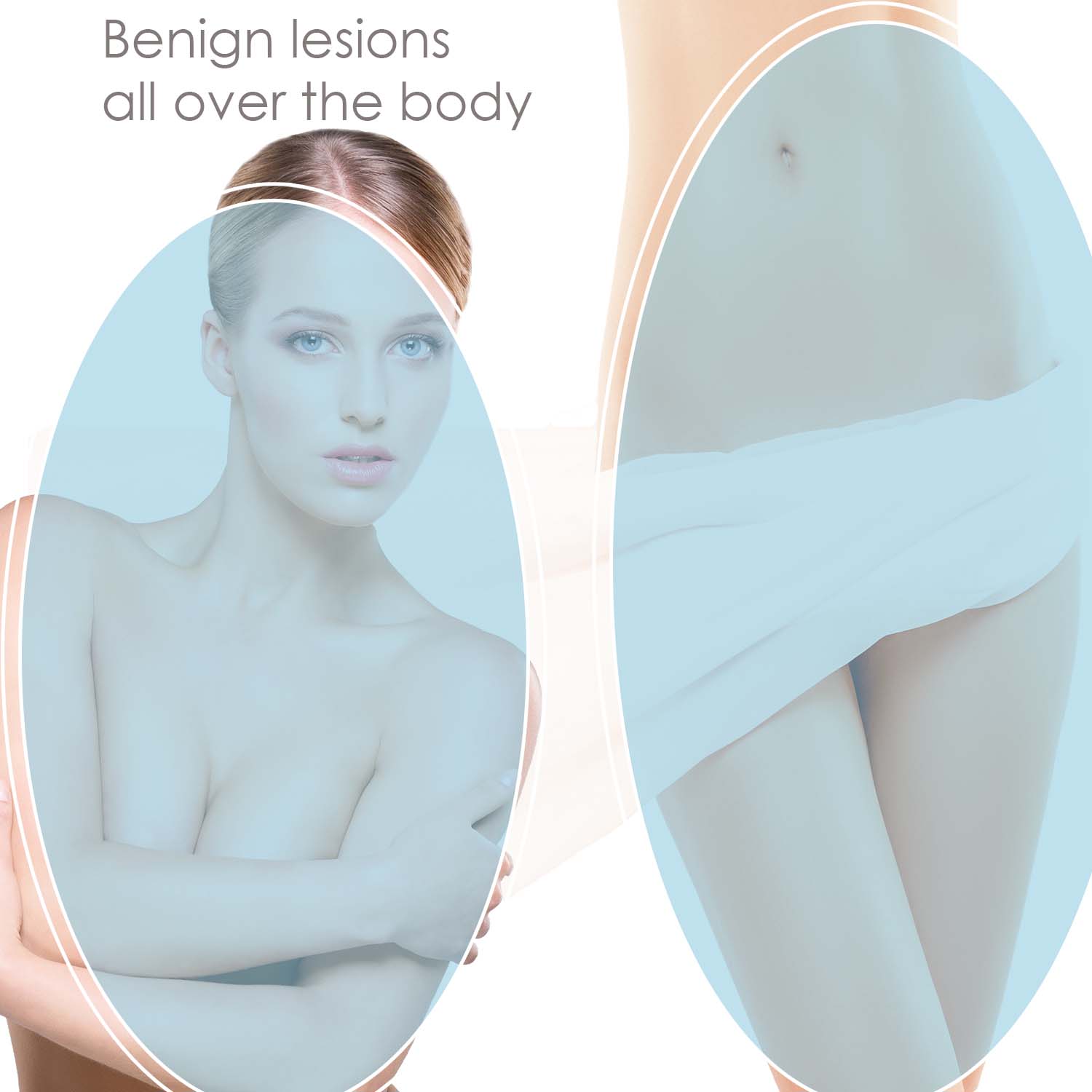 Cryotherapy Can Be Used on the Entire Body
• Nevus
• Moles
• Cystic Acne
• Actinic Keratosis
• Actinic Cheilitis
• Birthmarks
• Warts
• Dermafibroma
• Brown Pigment Spots
• Acrochordon
• Cyst
• Sebaceous Hyperplasia
• Seborrheic Keratosis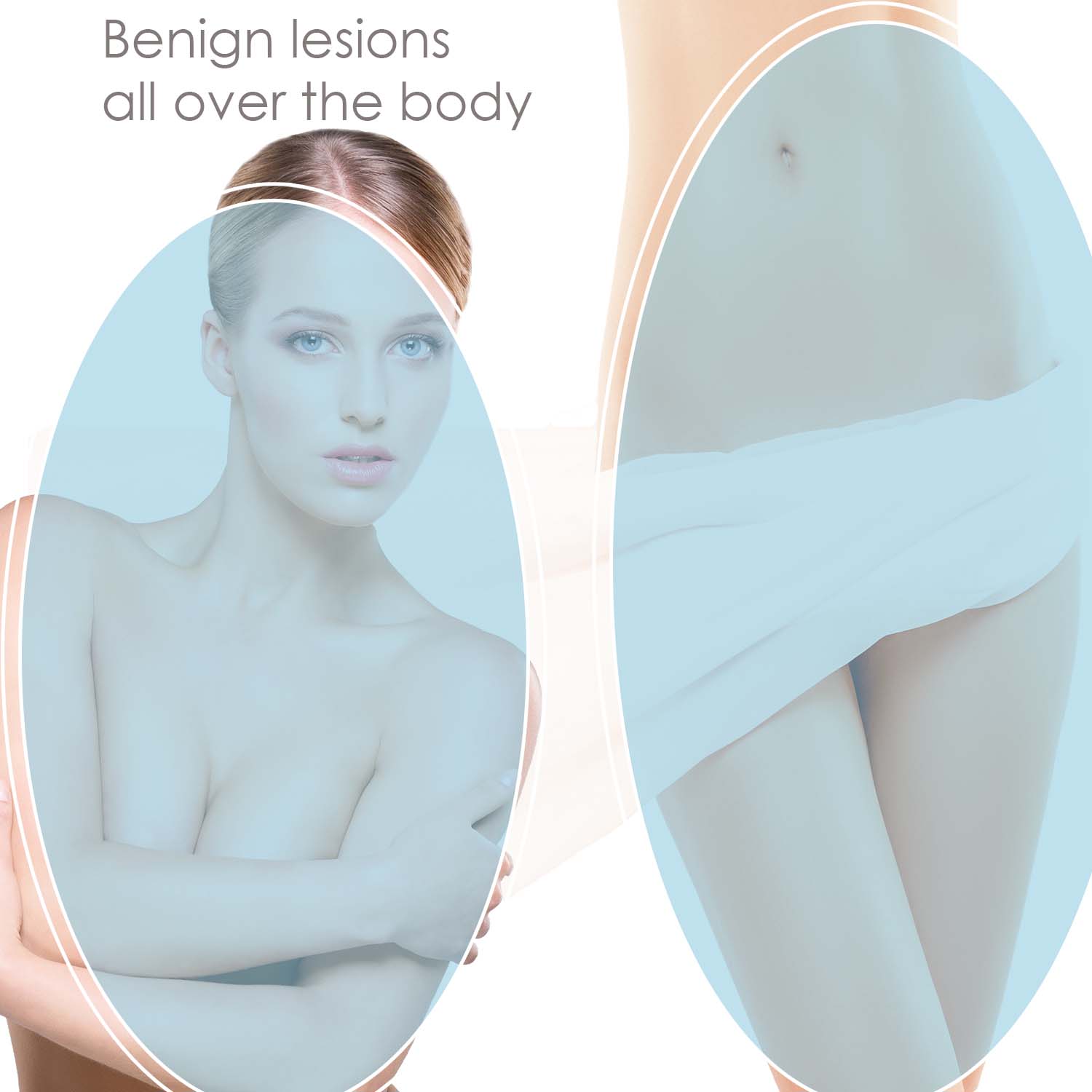 A Cryotherapy Session in Detail
Personalized Evaluation
At Infinium, we take the time to get to know you. Each person is unique and deserves a personalized assessment. Everyone has different expectations and needs so it is essential we advise you on the best possible treatment and cost estimate.
Taking of Photographs
It is important to take pictures before and after your treatment. Taking pictures allows us to correctly visualize the areas to be treated. In addition, it is the most effective way for you to see the evolution of your results. At Infinium, your satisfaction is our top priority.
We also offer 3D imaging.
Cryotherapy Treatment 
A cotton swab dipped in liquid nitrogen several times is applied to the lesion without local anesthetic. Alternatively, a liquid nitrogen spray applied directly to the lesion may be used. During treatment, you may feel a slight burning sensation that may last a few minutes.
After Treatment
Once the lesions have been treated, it returns to its normal color a few minutes after being frozen. Usually, edema and inflammation around the lesion occurs. Following treatment, a water blister filled with clear fluid or blood that settles in the treatment area may form. This reaction is completely normal and you should not worry.  Do not rip off any skin, it will make the healing process much longer. An average healing time of 10 to 14 days should be expected after a liquid nitrogen treatment.
Follow-Up After Treatment
Although cryotherapy treatment is effective, additional treatments may be needed. At Infinium, we make every effort to get effective and quick results.
Why Choose Infinium Clinic?
Our Consultation
Here at Infinium, each consultation consists of a complete skin analysis done with in-depth detail. With the help of our 3 step program, a unique treatment plan is designed especially for you! We are proud to offer you the best technologies and treatments available in today's market.
We aim to provide you with the best treatment options that respect your budget. We promise to offer the best options made specifically for you.
Our Technologies
Our team of professionals is aware that it is impossible to treat all skin conditions with just one technology. This is why we have acquired over 40 technologies to ensure that you experience the best services and results.
Safety
All of our machines are approved and regulated by Health Canada and supported by studies. Our team uses the safest techniques during the injections of neuromodulators and fillers.
Our Modern Clinic
Within the beauty industry, the best results depend not only on the experts but also on the machines that are used. Today, technologies and techniques evolve extremely fast. To improve our services and results, we use the most advanced and modern machines in today's market.
We respect your privacy. Through the use of our software system we make sure that your personal information is kept safe. After every treatment, we are always here to answer any questions that you may have, both inside and outside of office hours.
Our Team of Experts
We believe that you deserve to be taken care of. You will be both greeted and treated exclusively by our professional team of doctors and nurses that are specialized in medical aesthetics.
Our Therapeutic Protocols
Here at Infinium, we believe that getting good results shouldn't be dependent on just one treatment. Based on the problems identified during your facial analysis, we will offer you a combination of multiple treatments that best suit your needs to provide you with the best possible results. It is possible to combine technologies with injections, pharmaceutical skincare and oral medication.
Our Services
We at Infinium are proud to offer you the experience of a lifetime. We pride ourselves in providing some of the best services in the region.
Your Satisfaction
Here at infinium, your satisfaction is our top priority. We ensure you that we will take our time to listen to your questions and follow up with you. We strive to provide excellent service every step of the way.