Botox®️, Dysport®️ and Xeomin®️ Injections
Our warm medical team is at your service to provide guaranteed natural-looking and rejuvenating results through the use of Md Codes™.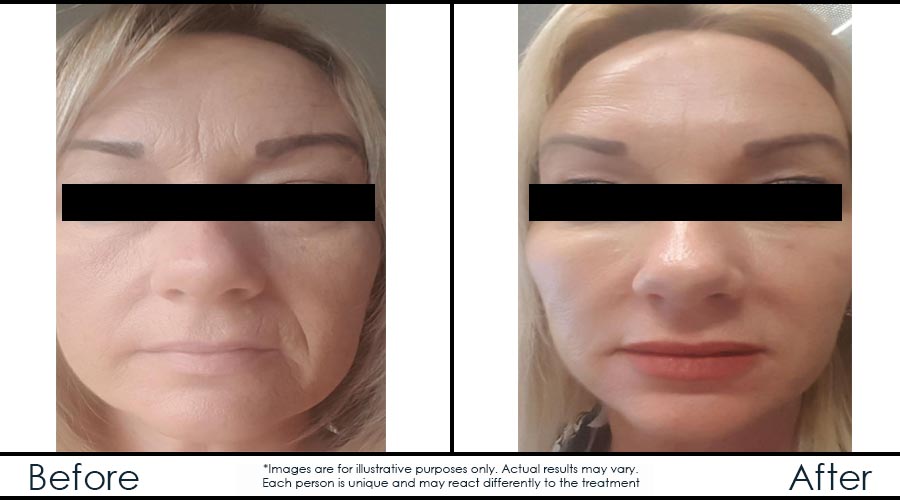 Botox®️, Dysport®️ and Xeomin®️ Injections
Prevents wrinkles and helps visibly smoothen the face
Strategically injected into facial muscles
Small doses are administered to each injection site
Quantities are adjusted to meet your expectations
What Are Botox®️, Dysport®️ and Xeomin®️ Injections?
Botox®️, Dysport®️ and Xeomin®️ are proteins (botulinum toxins), which once injected, relax the underlying muscles beneath the skin. This allows the skin to become smoother and for wrinkles to gradually fade. Botox®️, Dysport®️ and Xeomin®️ are trademarks designated to represent the different molecule (botulinum toxin) used within each injection type. The difference between the three injection types is the molecule (botulinum toxin) used, which can have a different effect on people when treated with one of these brands.

The use of Botox®️ in the cosmetic industry has been around for almost 30 years and dates back to the 1990s. On average, results with Botox®️ last between 3-4 months. In some cases, the Botox®️ treated muscles will decrease in mass over the course of treatments. This results in a reduction in the number of units necessary to relax them, as well as an increase in the duration of effectiveness.


Also, Botox®️ Medical can be used to treat hyperhidrosis (excessive sweating).

Injections Are Made Into the Muscle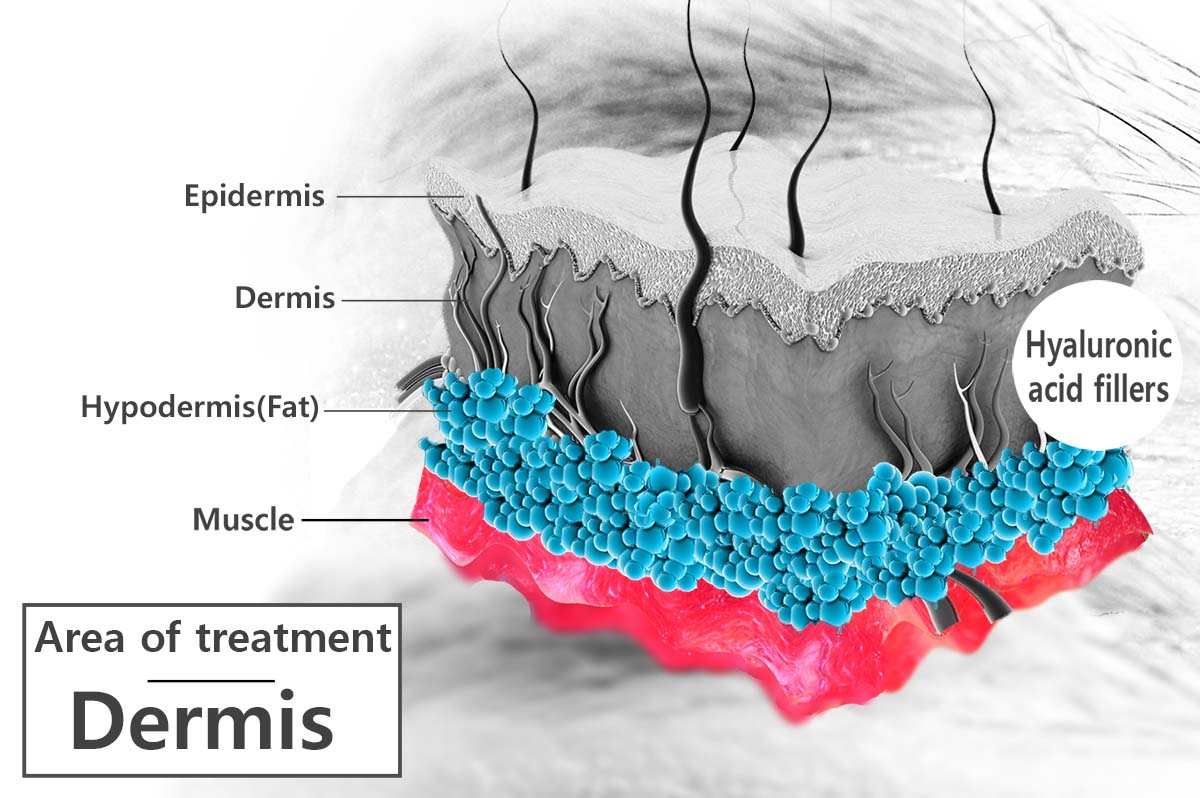 Botox®,Dysport®, Xeomin® - Treatable Areas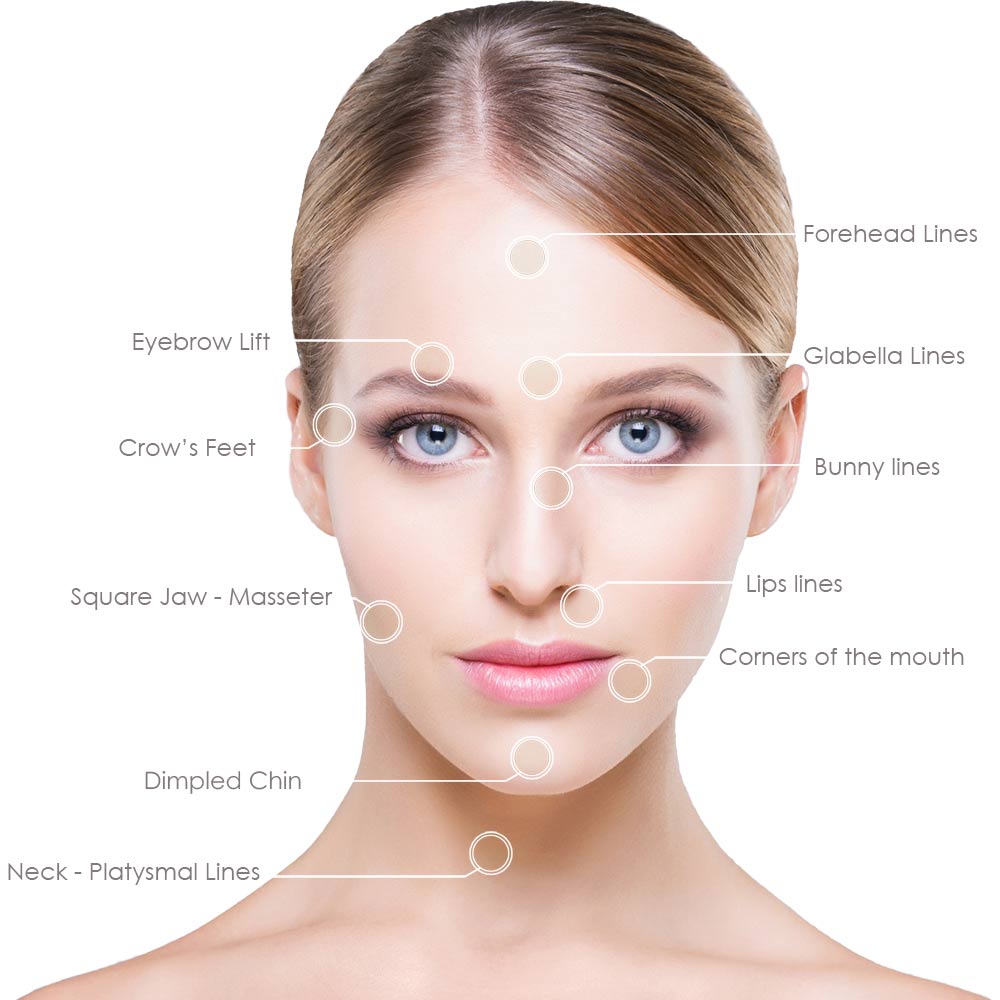 Description of Areas That Can Be Injected

Forehead Lines
Horizontal wrinkles that form when we raise our eyebrows. Over time, these dynamic wrinkles become permanent (static).
Glabella Wrinkles
The vertical wrinkles that appear between your two eyebrows. These wrinkles form during certain facial expressions such as anger or intense concentration. Over time, these dynamic wrinkles become permanent (static).
Crow's Feet
Also known as "smile lines", they appear around the outer corners of the eyes. They form when you smile or laugh.
Eyebrow Lift
Eyebrows can sometimes appear to be drooping or asymmetrical. Injections can improve facial symmetry and, in some cases, raise the eyebrows.
Nose Wrinkles (Bunny Lines)
These are the wrinkles located on each side of your nose. They appear when you smile.
Gummy Smile
To reduce the appearance of the upper gum when a person smiles.
Perioral Wrinkles
Vertical wrinkles that appear around the mouth when a person is speaking.
Chin
To soften the crease that can form between the chin and the lower lip or to remove the "orange peel" effect on the chin.
Square Jaw or Gnashing of Teeth
It is possible to reduce the appearance of a square jaw to obtain a more oval-shaped appearance. May also help those who grind their teeth at night.
Neck Wrinkles
To decrease the appearance of platysmal strings.
An Injection Session in Detail
Personalized Assessment
At Infinium , before even making your first injection, we take the time to get to know you. Each individual is unique and may experience the effects of aging differently. Our personalized assessment is used to determine your real needs as well as the costs associated.
Taking of Photographs
It is important to take photos before and after the first treatment. Taking photos allows us to correctly visualize the areas to be treated before Botox® injections. In addition, it is the most effective way for you to view the results obtained. At Infinium , your satisfaction is our priority.
Doctor's Assessment
During your first visit, you will meet with the doctor for an initial assessment. He will make sure that you are a good candidate for injections and will perform a muscle diagnosis.

In order to know the strength of your muscles and the dose of muscle relaxant to inject, our specialized staff will ask you to conduct various facial movements such as raising your eyebrows or frowning. This diagnosis is performed with the sole aim of obtaining

the best results

possible.

Treatment

Before the injections, some areas are marked with a white pencil. Guided by the marking points, injections are done precisely by an expert injector. The muscle relaxant is injected in minutes without any form of anesthesia. The pain from the injection is compared to that of a mosquito bite, thus discomfort is minimal.

After Injecting the Muscle Relaxant

After your treatment, it is recommended not to tilt your head, in an exaggerated motion, forward and backward for 4 hours. In addition, do not touch the injected areas for 4 hours.

Continuous Monitoring

You will be given a follow-up appointment 14 days after your visit to determine if the product has worked well. We will assess whether or not any other injections are necessary.

Read more...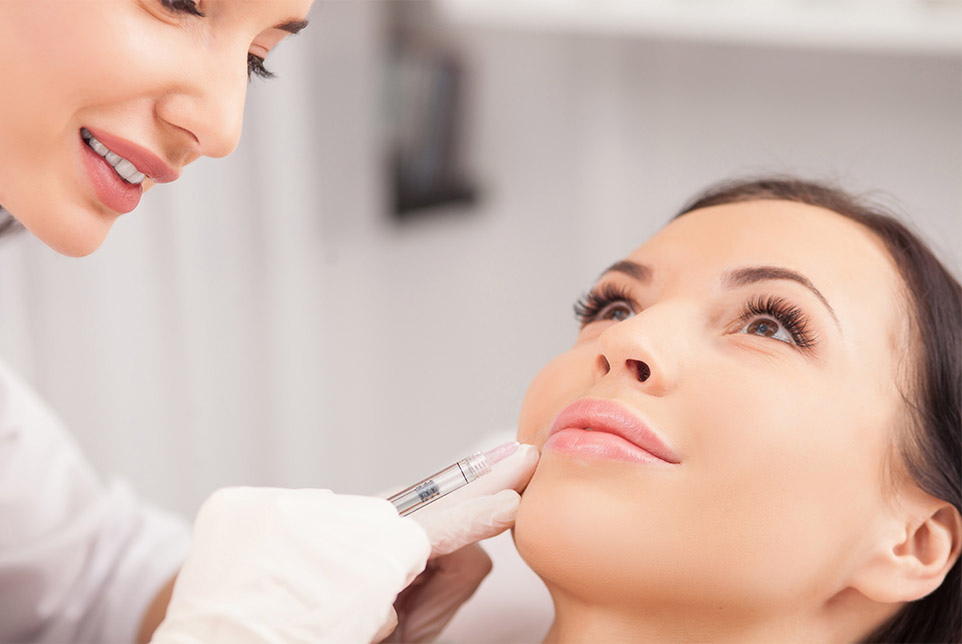 Why Choose Infinium Clinic?
Our Consultation
Here at Infinium, each consultation consists of a complete skin analysis done with in-depth detail. With the help of our 3 step program, a unique treatment plan is designed especially for you! We are proud to offer you the best technologies and treatments available in today's market.
We aim to provide you with the best treatment options that respect your budget. We promise to offer the best options made specifically for you.
Our Technologies
Our team of professionals is aware that it is impossible to treat all skin conditions with just one technology. This is why we have acquired over 40 technologies to ensure that you experience the best services and results.
Safety
All of our machines are approved and regulated by Health Canada and supported by studies. Our team uses the safest techniques during the injections of neuromodulators and fillers.
Our Modern Clinic
Within the beauty industry, the best results depend not only on the experts but also on the machines that are used. Today, technologies and techniques evolve extremely fast. To improve our services and results, we use the most advanced and modern machines in today's market.
We respect your privacy. Through the use of our software system we make sure that your personal information is kept safe. After every treatment, we are always here to answer any questions that you may have, both inside and outside of office hours.
Our Team of Experts
We believe that you deserve to be taken care of. You will be both greeted and treated exclusively by our professional team of doctors and nurses that are specialized in medical aesthetics.
Our Therapeutic Protocols
Here at Infinium, we believe that getting good results shouldn't be dependent on just one treatment. Based on the problems identified during your facial analysis, we will offer you a combination of multiple treatments that best suit your needs to provide you with the best possible results. It is possible to combine technologies with injections, pharmaceutical skincare and oral medication.
Our Services
We at Infinium are proud to offer you the experience of a lifetime. We pride ourselves in providing some of the best services in the region.
Your Satisfaction
Here at infinium, your satisfaction is our top priority. We ensure you that we will take our time to listen to your questions and follow up with you. We strive to provide excellent service every step of the way.