Juvederm® and Belotero® Dermal Fillers
Our warm medical team is at your service to provide the best care. Natural-looking results through the use of Md Codes™.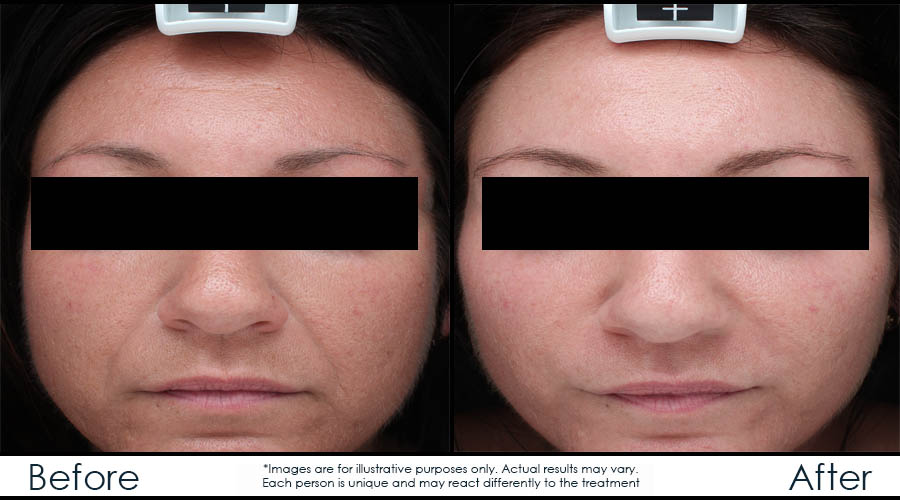 Juvederm® and Belotero® Injections
Used in aesthetics to give volume and to fill in wrinkles
Can add volume to the lips, chin, cheeks, tear troughs, fine lines and folds
Composed of hyaluronic acid which is a sugar that is naturally present in our body
Hyaluronic acid injections last between 6 to 24 months depending on the targeted area and the products injected
What Is a Hyaluronic Acid Like Juvederm® and Belotero®?
It is often given several names such as fillers or filling agents.
The truth is that these fillers are simply composed of hyaluronic acid, which is a sugar that is naturally present in our bodies. We find it in our dermis, joints, eyes and cartilage.
What is it used for? Hyaluronic acid is used to fill in hollows. It is a naturally thick substance that can hydrate our skin. It can hold up to a thousand times its weight in water.
Several brands and technologies of hyaluronic acid are available in Canada such as Juvederm®, Restylane®, Perlane®, Stylage®, Belotero® and Theosyal®, among others.

Fillers Are Injected Into the Dermis or Into the Layer Beneath It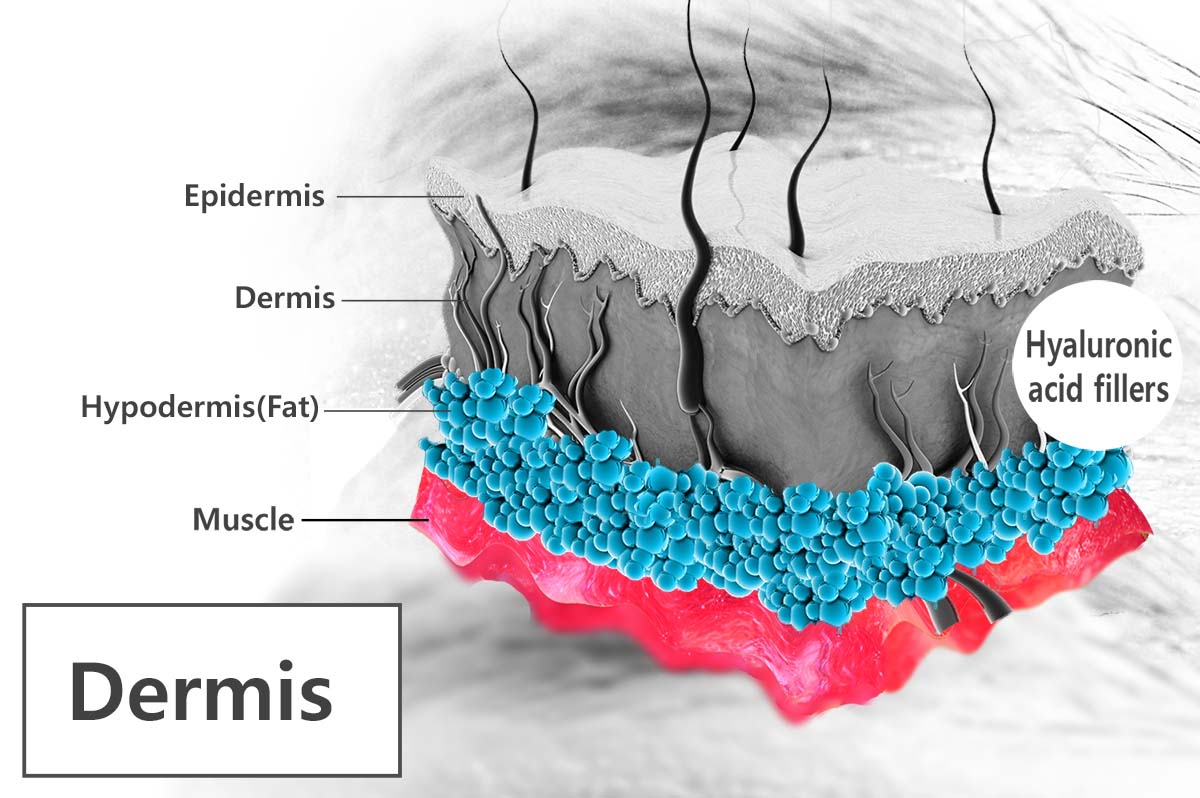 Treatable Areas
Areas That Can Be Injected
Here's a quick test to get a glimpse of what Juvederm® or Belotero® injections might be like for you. Take your hand and stretch the skin between your temples and your cheekbone. You will notice an improvement in the number of wrinkles present on your face. If there are any hollows left, it is possible to fill them in. The area around the eyes can also be injected to support the eyelids and to fill in dark circles. For those wishing to have the effect of a lift, a soft lift can be obtained using several syringes.
Juvederm® and Belotero® injections allow for impressive results that appear more natural than those obtained with surgery. Areas that can be treated include the face, chin, hands, nose, intimate parts, atrophic scars and any other areas needing volume.
Did you know that it is possible to inject most areas of the face and hands? There are no surgical procedures or technology that can restore lost volume. When there is fat loss, muscle loss, bone loss or collagen loss, it is possible to replace these elements by injecting a filler. Also, if your face is sagging, it is possible to restore the structure of the face. However, any sagging of the lower face must first be corrected by lifting the cheeks.
To do this, we inject hyaluronic acid around the cheekbones and temples to lift the sagging areas as much as possible. These areas cause the appearance of nasolabial folds, jowls and change the shape of the face. Without proper support, the results won't be optimal and in some cases may be worse.
An Injection Session in Detail
Personalized Evaluation
At Infinium, we take the time to get to know you. Each person is unique and deserves a personalized assessment. Everyone has different expectations and needs so it is essential we advise you on the best possible treatment and cost estimate.
Taking of Photographs
It is important to take pictures before and after your treatment. Taking pictures allows us to correctly visualize the areas to be treated. In addition, it is the most effective way for you to see the evolution of your results. At Infinium, your satisfaction is our priority. We also offer 3D imaging.
The Injection of Hyaluronic Acid Based Fillers Like Juvederm®
Our injectors will use the hyaluronic acid of your choice according to the area's requirements. There are different subtypes of products that have been developed based on the area to be treated. The density of the product changes to meet these requirements. For example, to lift and support the cheeks, you would have to use a denser product. Whereas, to fill in lines or folds a less dense product would be needed. For dark circles, the product must be more liquid than gelatinous to obtain a good result. We use state-of-the-art injection techniques such as cannula injections. These injections deposit the product in the face and around the injection point which allows for better precision. As mentioned before, lidocaine, which is a Juvederm component , will make the treatment more comfortable.
After Your Juvederm Injections
After the injection of hyaluronic acid, you will need to follow the following guidelines:
First 6 Hours :
Do not touch the area that was treated
Do not lie down
First 24 hours :
Do not engage in any intense physical activities
Do not take blood-thinning medication such as ibuprofen, aspirin, certain vitamins, etc.
It is recommended to sleep on your back for at least 2 nights following an injection
No extreme temperatures for the first 2 weeks (extreme heat or cold)
You can apply cold compresses (no ice) on the treated areas to reduce discomfort and inflammation. You can also take acetaminophen (Tylenol®)
Follow-Up
Once the session is over, at Infinium your well-being remains our priority. An appointment will be scheduled approximately 15 days after your visit to determine if the product has worked well. We will evaluate whether or not it is necessary to do more injections.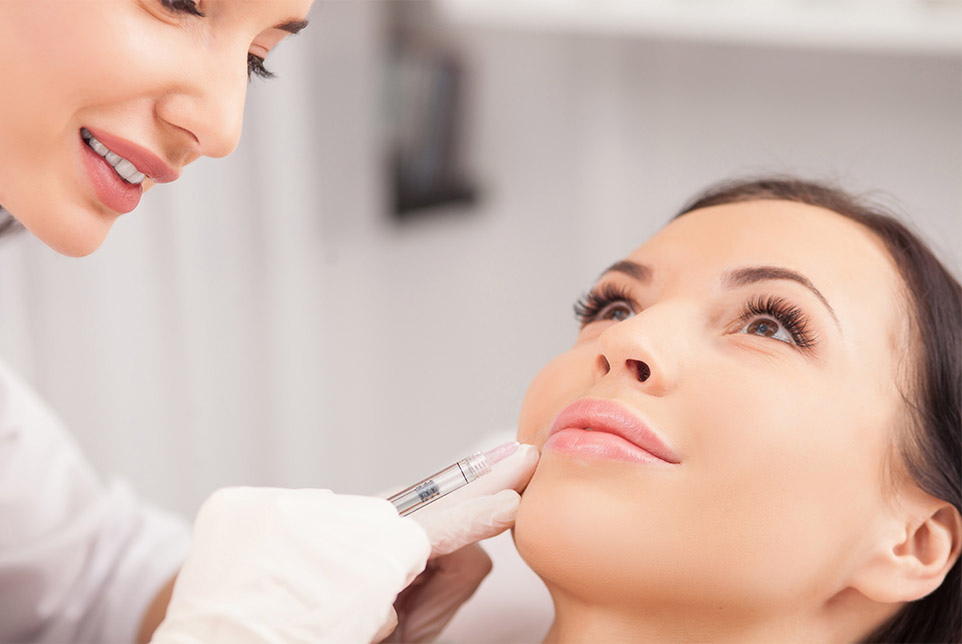 Why Choose Infinium Clinic?
Our Consultations
Here at Infinium, each consultation consists of a complete skin analysis done with in-depth detail. With the help of our 3 step program, a unique treatment plan is designed especially for you! We are proud to offer you the best technologies and treatments available in today's market.
We aim to provide you with the best treatment options that respect your budget. We promise to offer the best options made specifically for you.
Our Technologies
Our team of professionals is aware that it is impossible to treat all skin conditions with just one technology. This is why we have acquired over 40 technologies to ensure that you experience the best services and results.
Safety
All of our machines are approved and regulated by Health Canada and supported by studies. Our team uses the safest techniques during the injections of neuromodulators and fillers.
Our Modern Clinic
Within the beauty industry, the best results depend not only on the experts but also on the machines that are used. Today, technologies and techniques evolve extremely fast. To improve our services and results, we use the most advanced and modern machines in today's market.
We respect your privacy. Through the use of our software system we make sure that your personal information is kept safe. After every treatment, we are always here to answer any questions that you may have, both inside and outside of office hours.
Our Team of Experts
We believe that you deserve to be taken care of. You will be both greeted and treated exclusively by our professional team of doctors and nurses that are specialized in medical aesthetics.
Our Therapeutic Protocols
Here at Infinium, we believe that getting good results shouldn't be dependent on just one treatment. Based on the problems identified during your facial analysis, we will offer you a combination of multiple treatments that best suit your needs to provide you with the best possible results. It is possible to combine technologies with injections, pharmaceutical skincare and oral medication.
Our Services
We at Infinium are proud to offer you the experience of a lifetime. We pride ourselves in providing some of the best services in the region.
Your Satisfaction
Here at infinium, your satisfaction is our top priority. We ensure you that we will take our time to listen to your questions and follow up with you. We strive to provide excellent service every step of the way.