Wrinkles and Fine Lines
Wrinkles and fine lines are a normal part of aging. However, it is still possible to maintain a youthful appearance!
Wrinkles and Fine Lines Treatment Results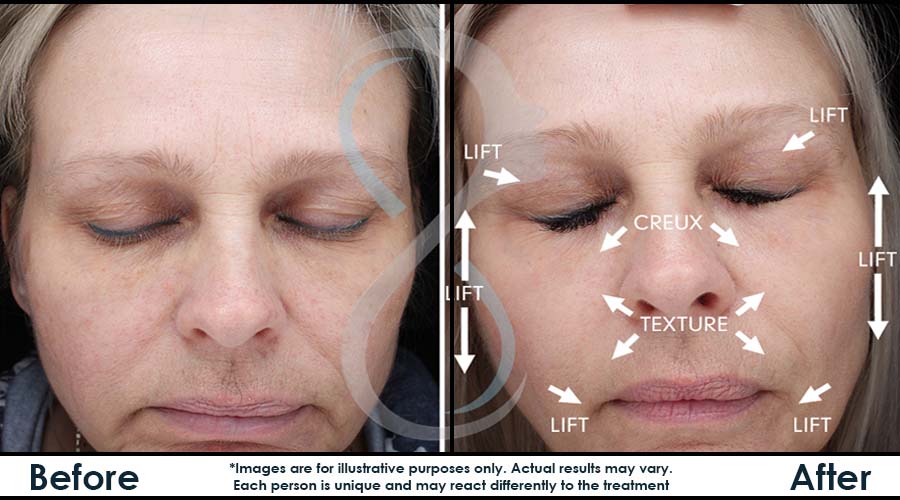 Our Approach to Treating Wrinkles and Fine Lines
Skin consultation and evaluation to identify areas for improvement
Proposal of a treatment plan adapted to your needs and expectations
Beginning of treatments with follow-ups to ensure the effectiveness of treatments
What Are Wrinkles and Fine Lines?
Aging of the skin is a natural process that can't be stopped. As we grow older, bone density changes and we lose muscle mass, fat and collagen. Our skin thins and the effect of gravity pulls it down. It is for this reason that cheeks begin to droop and the shape of the lips and face changes. In addition, you may begin to see sagging skin around the chin.
This aging of the skin is a process that continues until it is no longer possible to improve its appearance without surgery. Also, if you wait too long, even surgery may not be sufficient as it only allows for the skin to be stretched and does not restore volume. The option to wait isn't ideal, as the process becomes increasingly difficult to reverse.
The formation of wrinkles begins with a gradual loss of collagen and skin elasticity. These are made up of proteins, collagen and fibers that give the skin support and elasticity. Also, there are other factors that accentuate aging such as the loss of fat, a decrease in bone density and the thinning of the skin. Once the skin loosens, wrinkles begin to appear. There are two types of wrinkles: dynamic wrinkles and wrinkles that are due to sagging skin.
Expression lines are caused by facial muscle contractions. The more expressive our facial expressions are, the more the skin will be in movement and, over time, the muscles will gain strength and fold the skin- similar to folding a sheet of paper. These wrinkles can take the form of horizontal and vertical wrinkles. The areas of the face that will tend to wrinkle most easily are the upper part of the face, more precisely, forehead wrinkles, the glabella (the area between the 2 eyebrows) and the crow's feet (eye area). These wrinkles do not give a smoother appearance to the face but instead, contribute to giving a more severe look. Subsequently, there are expression lines that form around the mouth. Often these wrinkles will appear second. People who speak a lot or those who have smoked cigarettes for a long period of time tend to develop these wrinkles faster than the average population. Over time, these wrinkles will become static, that is, they will be visible even without facial expression. Other wrinkles that are not related to facial expressions will appear with age when the skin becomes thinner and begin sagging. These wrinkles will form especially on the cheeks, the nasolabial folds, the oval of the face, the neck and the neckline.
Wrinkles – Affected Areas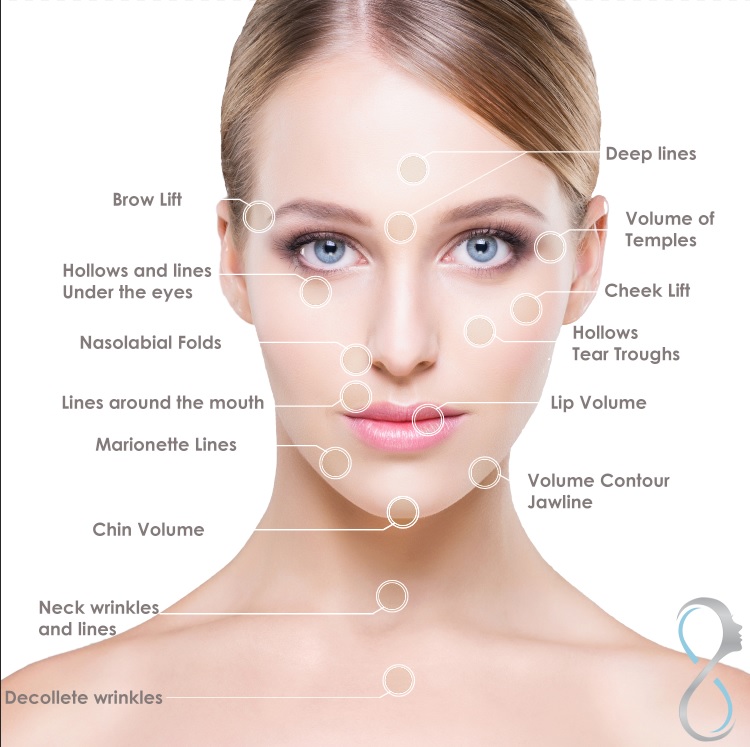 Our Approach
At Infinium clinic, our priority is to properly identify your needs and to establish an effective treatment plan that will improve the appearance of your skin. We focus on results and will advise you on the best techniques that exist. First, we will establish the state of aging of your skin and determine the causes. Following this evaluation, we will be able to offer you a treatment and maintenance plan. There is no permanent solution to the aging of the skin. The results will have to be maintained.
We will create a personalized treatment plan based on your expectations, your age and current skin condition. Often the challenge is to reconcile people's expectations and what is actually achievable. There is no magic solution on the market. There are 3 types of people, those who seek to prevent aging, those who wish to correct certain areas only and those who seek overall rejuvenation.
At Infinium clinic, we have the solutions to help you reach your goals whether you want to prevent, correct a few wrinkles or achieve complete rejuvenation.
Other than botulinum toxin injections such as Botox and volumizing agents such as Juvederm, there are all kinds of technologies and medicated creams that can correct the appearance of wrinkles and sagging skin by stimulating the production of collagen. It should not be forgotten that aging is due to a progressive loss of collagen. Rejuvenation technology remains the best way to fight against premature aging of the skin. A consultation would allow us to determine the proper treatment needed specifically for your needs.
Example of solutions to treat wrinkles and fine lines