Thermocoagulation

Discover how thermocoagulation can treat benign lesions on your face.
Ideal for treating simple aesthetic lesions
* source: Realself medical website
Only 15 minutes per session
Quick and permanent results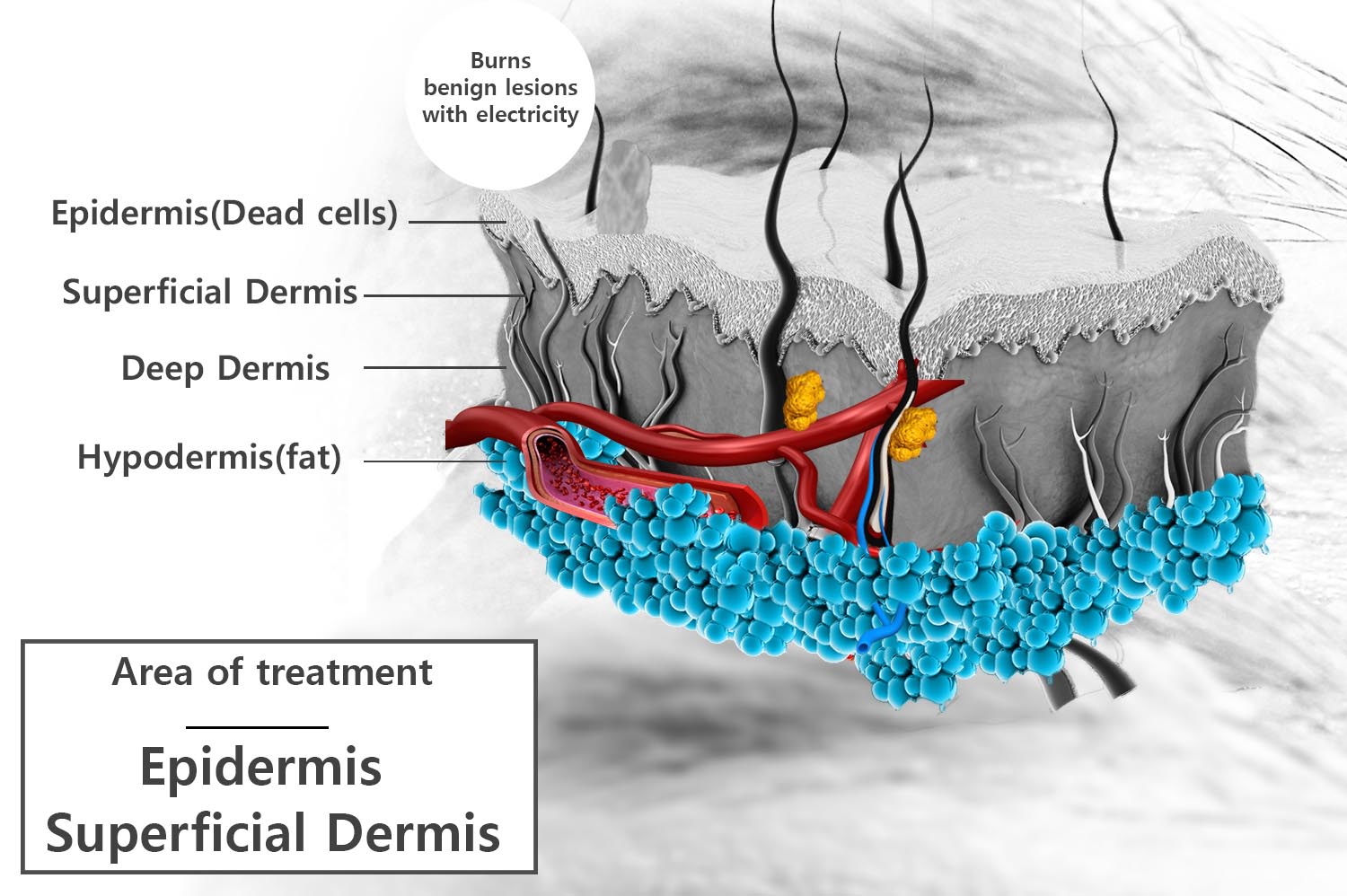 Discover Healthy Skin Without Any Imperfections Starting Today
Quick treatment
Immediate results
Visible effects
Painless
What Is Thermocoagulation?
Thermocoagulation is an aesthetic technique that is done using an ultrafast high-frequency current. This method of coagulation produces heat. By using this heat, we can make certain skin imperfections completely disappear. It is a fast, precise and non-invasive treatment.
Thermocoagulation – Treatable Areas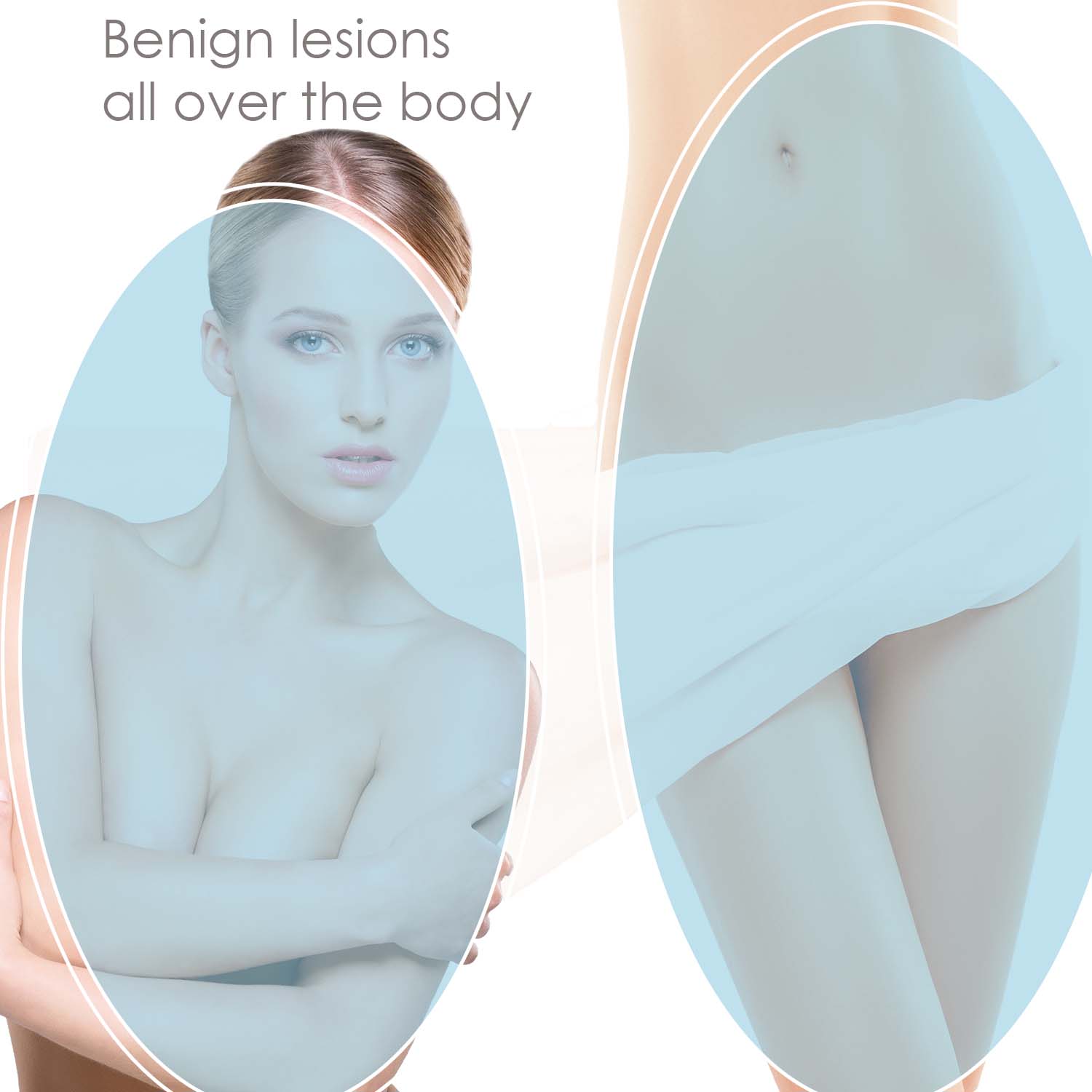 Types of Lesions That Can Be Treated With Thermocoagulation
Telangiectasia (small dilated vessels): Permanent dilatation of small superficial vessels. They are mainly found on the cheeks and the nose and sometimes on the chin and forehead.
Stellate Angioma: Cutaneous lesion in the shape of a star. It can be red or purplish in color and is usually located on the face and extremities of the limbs.
Milia grain: A rash that has the shape of a small yellowish-white grain. It is around the size of a pinhead and is most often sitting on the face, especially around the nose. It is actually a small cluster of sebaceous cells resulting from the obstruction of the channels.
Acrochordons(molluscum pendulum): They are excrescences of soft skin and pulp or pigmented color. They can appear anywhere on the body or on the face, but are mostly found around the neck, groin and armpit. Nearly one out of every 2 people has a skin tag. When untreated, they can spread elsewhere on the body.
Ruby point: Small permanent dilation formed of a bright red dot. The diameter is so small that it is barely visible.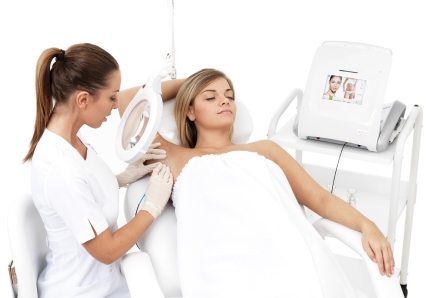 A Thermocoagulation Session in Detail?
Personalized Evaluation
At Infinium, we want to get to know you personally before your first treatment. Each person is unique and deserves a personalized assessment. Everyone has different expectations and needs so it is essential we advise you on the best possible treatment and cost estimate.
Taking of Photographs
It is important to take a picture before and after the treatment. Taking pictures allows us to correctly visualize the areas to be treated. In addition, it is the most effective way for you to see the evolution of the results. At Infinium, your satisfaction is our top priority.
Treatment 
In some cases we will apply an anesthetic lotion. Generally, a light pressure will be applied on the skin while activating the electrocoagulation probe. The treatments have an average duration of 15 minutes during which we can remove several benign lesions.
After Treatment
This treatment requires avoiding the sun before and after each session to limit the risk of scars or residual pigmentations. During the sessions, slight bleeding may occur and small crusts may be formed afterwards. They usually fall after a week without leaving a trace. These crusts may, however, stay longer in some cases.
Redness following surgery usually disappears within 48 hours. Again, this redness may last longer (for up to one to two weeks).
Why Choose Infinium Clinic?
Our Consultation
Here at Infinium, each consultation consists of a complete skin analysis done with in-depth detail. With the help of our 3 step program, a unique treatment plan is designed especially for you! We are proud to offer you the best technologies and treatments available in today's market.
We aim to provide you with the best treatment options that respect your budget. We promise to offer the best options made specifically for you.
Our Technologies
Our team of professionals is aware that it is impossible to treat all skin conditions with just one technology. This is why we have acquired over 40 technologies to ensure that you experience the best services and results.
Safety
All of our machines are approved and regulated by Health Canada and supported by studies. Our team uses the safest techniques during the injections of neuromodulators and fillers.
Our Modern Clinic
Within the beauty industry, the best results depend not only on the experts but also on the machines that are used. Today, technologies and techniques evolve extremely fast. To improve our services and results, we use the most advanced and modern machines in today's market.
We respect your privacy. Through the use of our software system we make sure that your personal information is kept safe. After every treatment, we are always here to answer any questions that you may have, both inside and outside of office hours.
Our Team of Experts
We believe that you deserve to be taken care of. You will be both greeted and treated exclusively by our professional team of doctors and nurses that are specialized in medical aesthetics.
Our Therapeutic Protocols
Here at Infinium, we believe that getting good results shouldn't be dependent on just one treatment. Based on the problems identified during your facial analysis, we will offer you a combination of multiple treatments that best suit your needs to provide you with the best possible results. It is possible to combine technologies with injections, pharmaceutical skincare and oral medication.
Our Services
We at Infinium are proud to offer you the experience of a lifetime. We pride ourselves in providing some of the best services in the region.
Your satisfaction
Here at infinium, your satisfaction is our top priority. We ensure you that we will take our time to listen to your questions and follow up with you. We strive to provide excellent service every step of the way.